When it comes to setting up an online store on Shopify, choosing the right theme is one of the most critical decisions store owners have to make. A well-designed Shopify theme not only enhances the appearance of the online store but also improves the site speed and user experience. Therefore, finding the fastest Shopify theme is crucial for any business looking to maximize its online potential.
Shopify is one of, if not the most popular e-commerce platforms available (check out my Shopify review) and used by businesses worldwide to create and run online stores.
It offers a wide range of themes that allow users to customize their online store's look and feel, including fonts, colours, and layout. Shopify's themes are designed to optimize the site speed and provide an excellent user experience, making them a popular choice among online store owners.
Why is Shopify store speed important?
The site speed and user experience are critical factors that determine the success of any online store. A slow website can lead to high bounce rates and dramatically impact conversion rates. Therefore, choosing the fastest Shopify theme that's good for SEO is vital to ensure that the site loads quickly and efficiently.
The good news is that Shopify's theme store offers a variety of options for store owners, including free themes and premium themes, and while some free themes can be fast and reliable, most premium themes offer better features and customisation options.
So that's why instead of creating a long list of Shopify themes that will do nothing but add confusion to your decision, I've decided to narrow the list down to three themes that I, as a Shopify SEO consultant believe give you the best performance.
And I'm going to start off with a theme that I've personally used recently and still love after a couple of years.
Turbo Shopify theme
The Turbo theme by Out of the Sandbox is designed explicitly for speed, with a cracking array of features such as lazy loading (although I don't actually recommend using lazy load unless you need it), asynchronous loading and optimised images, although I do recommend also adding an image compression app to make your site load even faster.
And when you do add an image compression app to your store you'll end up with a blazing-fast site that converts like an animal.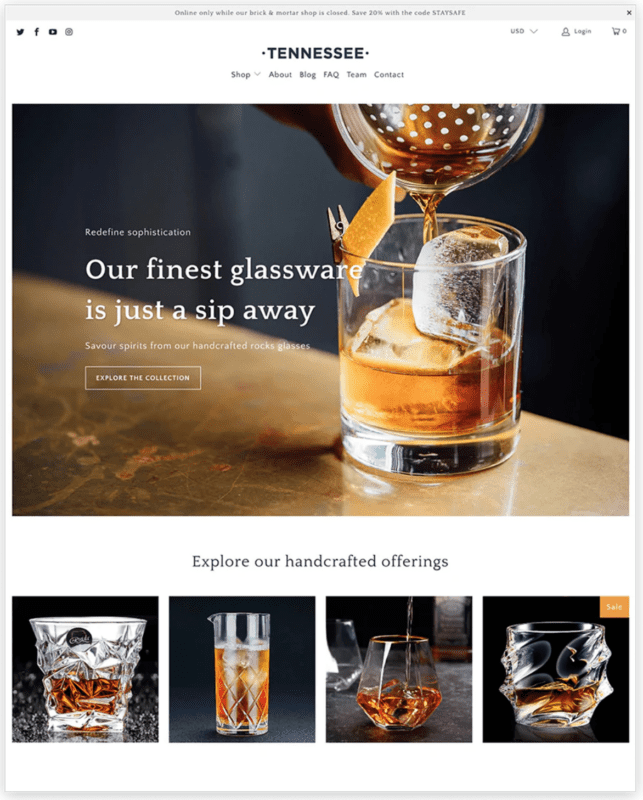 Awesome product pages
On top of this, the theme's customisable product page layout and checkout page design make it a popular choice among online store owners looking to improve their conversion rates.
Core web vitals
It's important to pay attention to certain aspects of core web vitals (CWS) such as content layout shift (CLS) because areas like this are both important to Google and frustrating for users.
So when evaluating the speed of a Shopify theme and CWS, several factors come into play, including how themes handle aspects like CLS. And thankfully, the Turbo theme takes care of this well, which I can personally guarantee.
You should pay attention to things like your Pingdom and YSlow score, loaded time, average speed score, and page speed score, they don't paint the full picture and shouldn't be analysed in too much detail.
Sadly, most store owners won't look into these types of factors until their site is built and live. You should be aware of these metrics when selecting a theme, as they directly impact the site's speed and user experience and conversion rates.
My personal favourite
As I've already mentioned, the Turbo theme from Out of the Sandbox is a theme I've personally used for a Shopify store build on a recent project because not only is it fast and will help when passing Google PageSpeed tests, it comes with features like great CSS, correctly implemented JavaScript and is flexible enough for you to create a user interface that will keep your shoppers engaged and on your site.
There are also 6 themes to choose from, which are:
Portland
Dubai
Chicago
Tennessee
Seoul
Florence
All of which will allow you to create the style and feel that you need whilst being fast to load.
Flex Shopify theme
There are many reasons to like the Flex theme aside from the fact it's one of the fastest Shopify themes on the market, and is one of the most used Shopify themes in the world.
Flex is also made by Out of the Sandbox and is arguably one of the best supported themes on the market.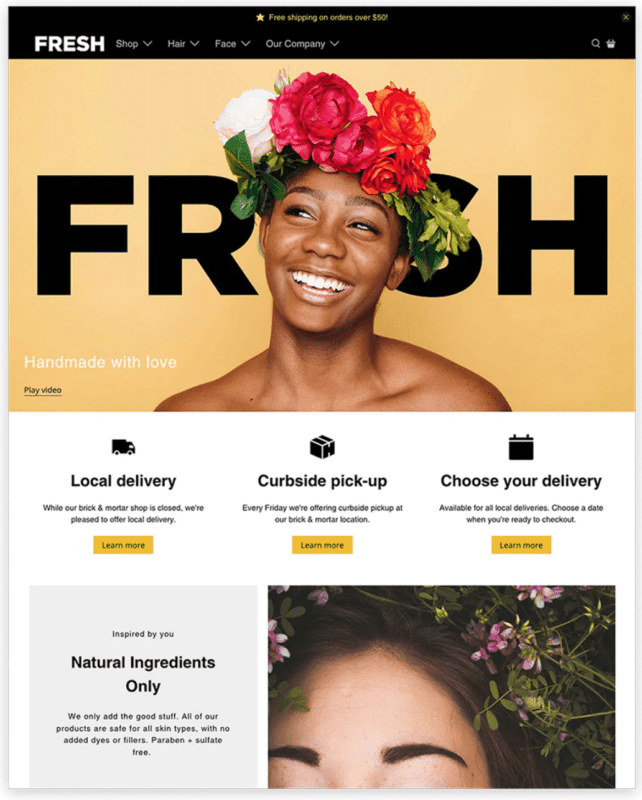 To give you an idea of why it's so well liked it also comes with all of these features:
CSS Files
Customisable CSS files that allow for easy editing. It should also be up to date with the current version of Shopify, ensuring that you have access to all the latest features.
Menu features
Some additional key features to look for in a flexible Shopify theme include a mega menu, a quick view option for product pages, and a responsive design, all of which Flex does brilliantly.
A mega menu allows for easy navigation, while the quick view option allows customers to view product details without having to navigate away from the current page.
Page layouts
You get 3-page layouts to choose from including Classic, Image scrolling, or Sections to design the product page.
Header styles
With Flex you get to choose from Classic, Centered, Search Focus, and Vertical headers and can adjust many settings, including alignment, and you can even add your own custom CSS or use content blocks to achieve various footer layouts.
Flex has 13 themes to choose from, which are:
Fresh
Wink
Flora
Nourish
Luxe
Moda
Emporium
Studio
Glow
Trending
Swagger
Techno
Bloom
And like Turbo, Flex is built with performance in mind which will help convert browsers into customers.
Booster Shopify theme
The Booster theme is known for its high loading speed, making it an ideal choice for online stores that want to improve their conversion rates. Its responsiveness and flexibility allow for customization of the product pages, making it easy for businesses to showcase their products in the best possible way.
Other key features of the Booster theme include a quick view option, a sticky header, and AJAX add to cart. The theme's design is minimalistic, ensuring that the focus remains on the products, and the site remains clutter-free.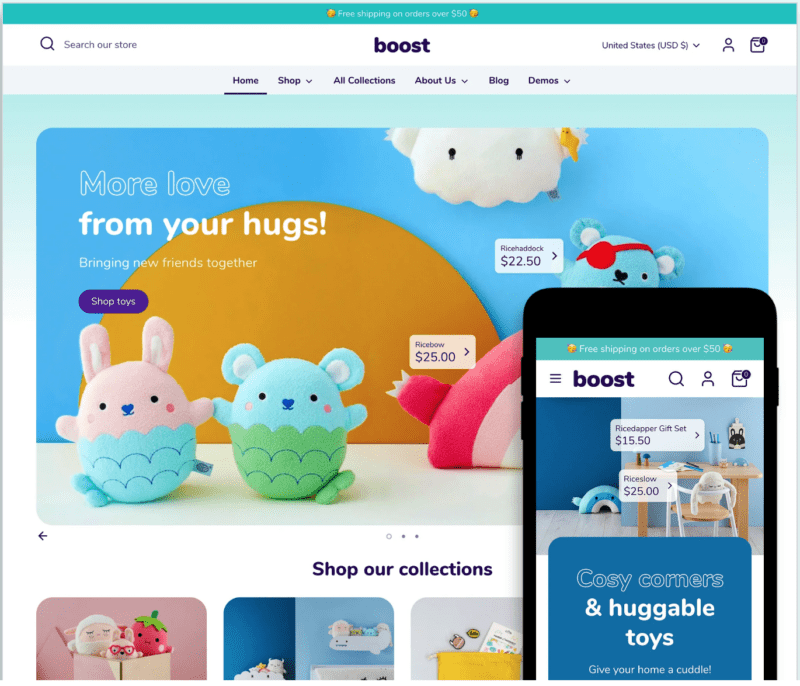 Here are a few more of Booster's main features:
Full control
The Booster theme is highly customisable and lets you have complete control over your store's appearance and user experience.
Quick buy
By enabling quick buy you can remove additional page load times and give customers the ability to buy products without actually having to go into the product page.
This will go some way to increasing conversion rates for repeat buyers and anyone in a hurry, especially if they already have an account with you.
Dynamic checkout
Like all good Shopify themes, you can let customers quickly pay with their favourite payment method, be that Apple Pay, PayPal, all major credit cards or even buy now pay later options like Klarna.
Predictive search
By utilising "smart search" you will let your customers find what they want quickly and easily. This is especially useful for large retailers.
Features to save you money
On top of these great features, Booster also provides additional extras that save you over £200 per month in additional app fees.
These extras include:
Infinate scroll
Description tab
Video everywhere
Frequently brought together
Geolocation tags
Copycat stopper
Customisable shopping cart
Flexible header and footer
Sticky add to cart
Easiest Shopify theme to use
All-in-all most Shopify themes are pretty straightforward to instal and set up, but whilst premium themes offer better loading times, features and customisation options, they do also come with a slightly steeper learning curve because the features they offer need to be set up to suit the feel of your Shopify store.
You can't just instal a theme and walk away thinking it's done, even if you only need a theme that specialises in selling one product or a very small inventory.
But in my opinion, it's not that bigger deal because once you understand which things do what and you've played around with it for a while, you'll get the hang of it in no time.
However, there are also several fast and reliable free Shopify themes available that don't have a steep learning curve. Store owners can choose from a variety of free themes, such as the Debut, Brooklyn, and Minimal themes, all of which are optimised for speed and provide an excellent user experience.
That's a wrap for the fastest Shopify themes
Selecting the fastest Shopify theme is crucial for any online store looking to improve its site speed and user experience. Store owners can choose from a range of premium and free themes, all designed to enhance the appearance and functionality of the online store.
All three themes are among the most popular fast Shopify themes available, offering customisable product pages, quick loading times, and improved conversion rates.
With a free trial available for most Shopify themes, store owners can test the speed and functionality of the theme before making a final decision, and store owners should evaluate the theme's speed metrics and features before selecting a theme to ensure the best possible outcome for their business.
A fast and optimised Shopify theme can improve the site's visibility on search engines, leading to increased traffic and higher conversion rates.