In today's digital era, having a website that allows customers to interact and buy from you is crucial for any business. In fact, to survive and thrive, especially within the eCommerce world, you must have a content management system (CMS) that covers all of the critical areas that customers have become accustomed to, such as speed and user experience.
In recent years, mobile shopping has become even more important for store owners, which can often be challenging. Thankfully, Shopify is an eCommerce site owner's dream due to its continual evolution and has emerged as one of, if not the most popular platforms for building online stores.
However, setting up a Shopify store that will satisfy both users and Google isn't as easy as it might seem, which is why choosing the right Shopify theme is so important. But with so many Shopify themes available, it can be challenging to choose the right one that meets your business needs and offers excellent search engine optimisation (SEO).
In this article, I will discuss the best Shopify theme for SEO and what features to look for when choosing a theme.
Shopify is a robust e-commerce platform that allows users to create an online store with ease and provides various tools and features that enable store owners to manage their online store efficiently, but without the right theme, you'll be starting off on the wrong foot.
A Shopify store is no different to any other website builder and includes pages such as the homepage, product pages, collection pages and checkout page, all of which must have a style and feel that promotes your brand. So it's important that you make the right choice when choosing your theme.
And as a rule (meaning always) I recommend picking a paid theme that's developed and supported by some of the best Shopify theme makers in the world, such as Out of the Sandbox.
What to look for in a Shopify theme
Shopify themes are pre-designed templates that determine the look and functionality of your online store. The Shopify Theme Store offers hundreds of paid and free themes that are customisable and responsive across all devices, and a good Shopify theme can enhance the user experience, attract more organic traffic, and ultimately boost sales.
When it comes to SEO, which is what this post is about, it's crucial to choose a theme that is optimised for search engines, so your theme must have clean code, doesn't block critical elements of your pages such as product descriptions, allows you to add and change heading tags and has a mobile-friendly design can help your online store rank higher on search engine results pages (SERPs).
Here are some essential features to consider when choosing a Shopify theme for SEO:
Positive Rating: Choose a theme with high ratings and positive reviews from other store owners. The Shopify Theme Store provides a rating system that indicates how well a theme is received by other users.
Site Speed: A theme with fast loading times can improve the user experience and reduce bounce rates. A slow-loading site can negatively impact your SEO and deter potential customers.
Mega Menu: A theme with clear navigation via the menu allows you to showcase multiple collections and products in a visually appealing way. This feature can improve navigation and make it easier for customers to find what they're looking for.
Highlight Features: Look for a theme that highlights your products' key features and benefits. This can attract more customers and improve your conversion rate.
Quick View: A quick view feature allows customers to view product details without leaving the current page. This can improve the user experience and reduce bounce rates.
Functionality: Some Shopify themes offer powerful modules that can enhance your online store's functionality. Look for themes that provide modules such as countdown timers, product sliders, and related product suggestions.
Duplicate Content: A theme that generates duplicate content can hurt your SEO efforts. Ensure that the theme you choose is optimized to avoid duplicate content issues.
Is a Shopify theme that's good for SEO all I need?
Ultimately no, there's a lot more to SEO for your Shopify store than the theme, but it's a good start. What I would also add to your store as soon as your theme is in place is a good image optimisation app that will compress and "lighten" your product and hero images.
It's important to make sure that you don't overlook this step because by adding an image optimisation app you will greatly improve the overall performance of your store. Images play a major role in slowing websites down and eCommerce stores by their very nature have lots of them, so be sure to set it up ASAP.
SEO is multi-layered and quite complex and it's important to get the basics right from the beginning, and that starts with a good theme built on Shopify.
When your theme is sorted you then need to create an SEO strategy that focuses on user intent, content and backlinks, which will turn your store into a revenue-generating machine.
Top 3 Shopify themes that help with SEO
I'm sure you've already read a number of posts that simply list off 20 or so Shopify themes that the author has simply pulled out of the air because it's what everyone else has done, and I'm sure that some of those themes are good.
But what I can give you is experience through building my own sites and testing, so I've narrowed it down to three themes so you don't have to spend too long making your decision.
Please note that all 3 themes are one-time paid-for themes. I've chosen them because they're well-developed and give users what they need.
I generally don't recommend free Shopify themes because they simply don't have the usability and performance of the paid ones.
Turbo Theme
The Turbo theme from Out of the Sandbox is my personal favourite and one I automatically turn to when I want to build a new Shopify store.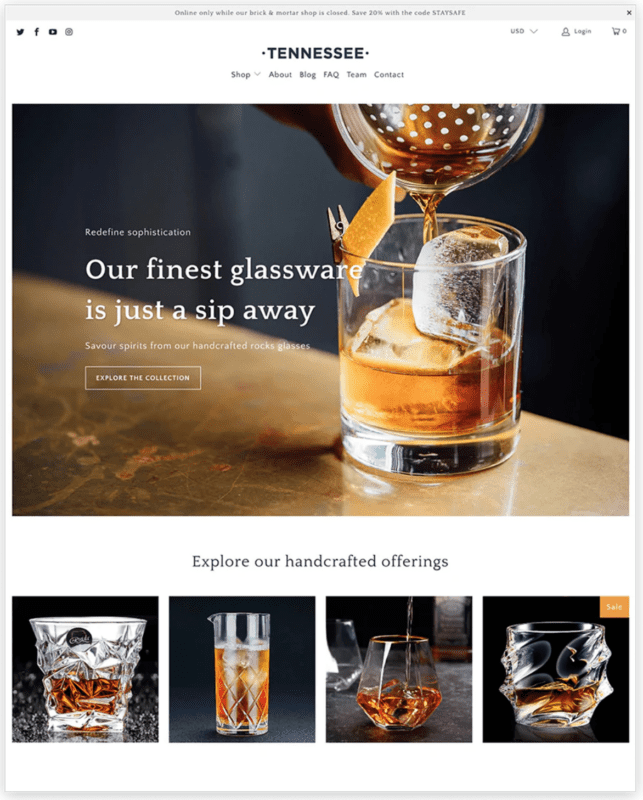 Not only is it fast, it comes with loads of great features out of the box, great CSS and is super flexible.
There are 6 themes to choose from, which are:
Portland
Dubai
Chicago
Tennessee
Seoul
Florence
All of which will allow you to create the style and feel that you need whilst being fast to load.
Flex theme
The flex theme is also built by Out of the Sandbox and offers you the type of granular control over your store that most Shopify themes don't give you.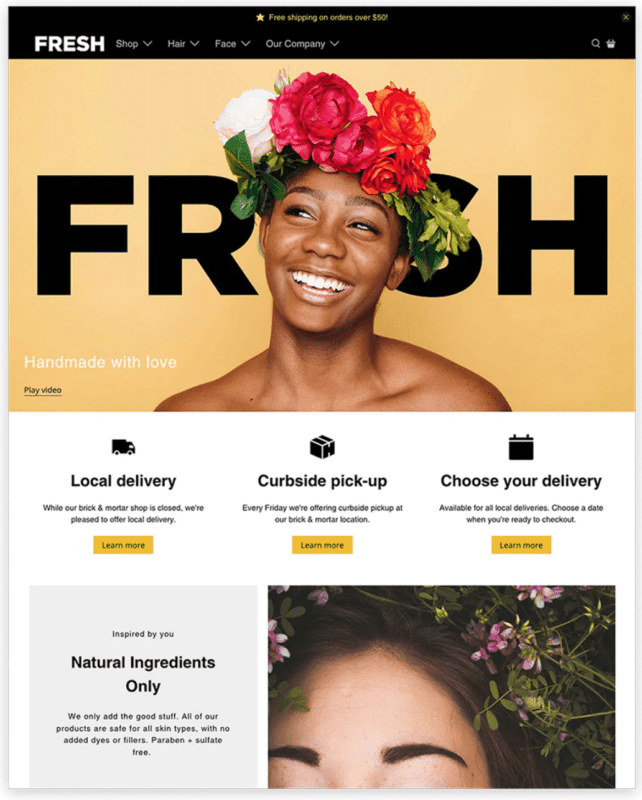 Flex allows you to showcase your products brilliantly and is ideal for sellers that want to push their creativity with something unique.
Flex has 13 themes to choose from, which are:
Fresh
Wink
Flora
Nourish
Luxe
Moda
Emporium
Studio
Glow
Trending
Swagger
Techno
Bloom
And like Turbo, Flex is built with performance in mind which will help convert browsers into customers.
Palo Alto
Palo Alto is a top-rated Shopify theme built by Presidio Creative, and it reaches very high-performance standards. And whilst in my opinion, it's not quite as good as Turbo or Flex it does have some great features and is fast.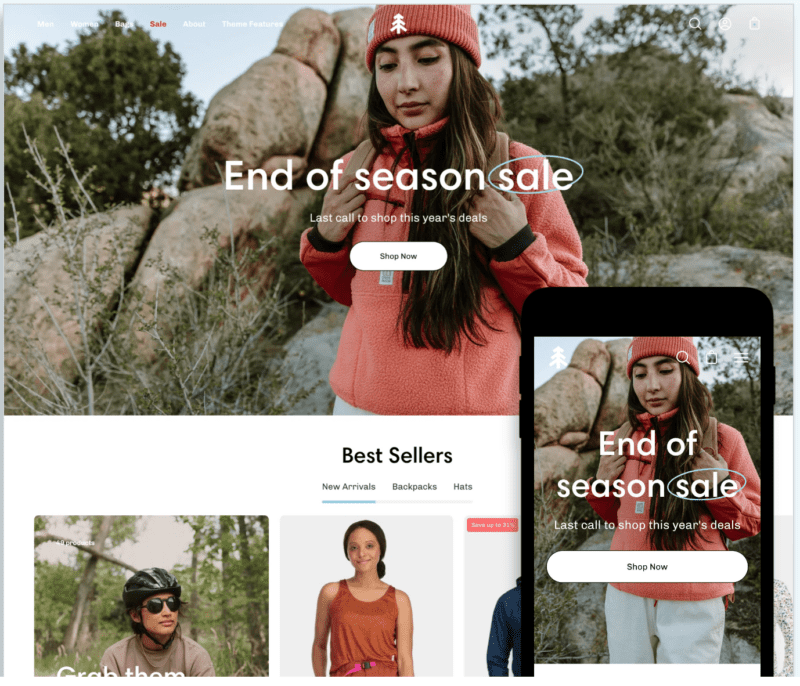 With Palo Alto, you get a lot of good features and can customise many of the key areas that assist conversions.
Here are some of Palo Alto's main features:
SEO friendly
Large image optimization
Breadcrumbs
High performance
Free theme updates
Quick buy
All in all, it's a well-built store that will help turn visitors into customers and won't leave you wanting to change to a different theme after a short space of time.
Unique Shopify themes
The problem with many Shopify themes is that they can often look and feel the same, which in my opinion isn't helpful, because, in the competitive mobile commerce landscape with plenty of new players entering any given niche at once, you need to stand out in as many ways as you can whilst keeping site performance at a maximum.
And with Turbo and Flex from Out of the Sandbox, you get the ability to turn your store into a shopper's paradise with endless customisable options and a user experience that most can only dream of.
Highest converting Shopify theme
Answering a question like which is the highest converting Shopify theme is a loaded question because there's so much that goes into converting a customer.
The right Shopify theme will help for sure as long as it's got the main features nailed down, such as:
Being fast to load so that users convert better (speed really matters with this)
Having a good navigation structure so users can find what they're looking for easily
Is flexible in it's design so you can reposition things like the buy button and images etc
But the truth is that any Shopify theme will convert if you have a great product that nobody else manufactures in the way that you do. Customers will look beyond a poorly designed store if the product you sell is what they want.