In this article, we will explore the SEO costs associated with SEO services and the price for SEO in general. This will include a discussion of the different types of services available, as well as the different SEO services pricing models.
The SEO cost per month in the UK and associated fees can vary greatly, depending on the size and complexity of the project. Generally, though, you can expect to pay anywhere from several hundred dollars to tens of thousands of dollars in project prices and fees for a full SEO campaign that lasts over 12-24 months.
SEO costs involve more than just the services of an SEO professional in some instances, though. To achieve optimal results, you may also need to make changes to your website design and even the platform you're using, if necessary.
How much SEO services cost will depend entirely upon the size and scope of your project. For example, a simple on-page optimization project or SEO content writing service may cost as little as £500 to £1000 per month, while a more complex project that includes link building, PPC and social media marketing may cost upwards of £10,000 per month.
The average SEO cost per month will vary from project to project, which, unlike many other SEO companies is why I completely stay away from fixed monthly SEO packages. You simply cannot have a one size fits all approach to search engine optimisation!
Key takeaway
There are many things to consider when looking to hire an SEO consultant or agency. Below are two tables that will give you an overview of what to expect.
Firstly, what your money will get you if you're looking to pay monthly for your SEO?
| | | |
| --- | --- | --- |
| | | |
| | Monthly consulting for site owners that understand SEO and need guidance | No/not much "hands on" work from the consultant as work to be done is carried out by the site owner to keep costs down |
| | Growing sites that understand the value of SEO and need to scale | Finding the right consultant or agency can be hard |
| | Enterprise companies and sites in the most competitive niches | Large monthly outlay if the wrong agency is choosen - the damage can be hard to rectify when SEO is done badly, at scale |
Secondly, which pricing models are most suitable for you and your business?
| | | |
| --- | --- | --- |
| | | |
| £50 to £300 per hour, depending on the consultant or agency | Consultancy support for in-house SEO teams or site owners that already understand SEO | Limited hands on help. Work needed will be recommended, but it will ultimately be down to the site owner to implement the work |
| £1'000 to £5'000 per month | Mid to long-term SEO work on a fariety of issues, from technical to linkbuilding | Will need consistent monitoring - especially if you operate in a fast paced industry |
| £10'000 to £50'000 depending on the size of the project and competition | Startups and smaller sites in competitive niches | In my opinion there are no real drawbacks to "per project" SEO, as long as you choose the right consultant/agency and there's a detailed roadmap in place |
| £30'000 to £75'000 per year | Larger or ambitious companies that are either looking to build a marketing team | The hiring and/or training process can be time consuming and can often lead to the wrong hire being made. Inexperienced SEOs will need support and experienced SEOs will chase money from better paying companies |
But before we get into the different types of SEO services and reveal exactly how much SEO costs, let's first answer the question that will help to spark new life into your marketing strategy: what is SEO?
What is SEO
SEO, or Search Engine Optimization, is the process of improving the visibility and ranking of a website in search engine results pages (SERPs). The higher a website ranks in SERPs, the more likely it is to be seen and clicked on by potential customers. When a customer clicks on a link in a SERP, they are taken to the website.
The main focus of SEO should be to ensure you rank for the keywords and phrases that are most relevant to your products or services. However, ranking for irrelevant keywords can have a negative effect on your website – causing it to rank lower in SERPs, and potentially costing you traffic and customers.
That's where our SEO price guide comes in! When you learn how to turn a small SEO rate into a large output of prime business prospects, you'll be able to take control of your website's ranking and improve organic search engine performance – all while saving big on your marketing and PPC budget.
There are a ton of benefits to utilising SEO as part of your marketing strategy. Your brand awareness will skyrocket along with an increase in traffic and conversions! If you're not using SEO to its fullest potential, you're missing out on a world of opportunity for your business.
You'll want to be in the know on the price of SEO services before implementing it as part of your marketing strategy, so you don't get suckered into paying too much or not getting what you expect. It's a great idea to research the going rate and compare pricing for services before making a decision.
The recent growth and demand for SEO
There's a reason that good SEO consultants and agencies are in demand in the UK right now. And that's because a good consultant can skyrocket your rankings and profit!
But don't take my word for it. Let Google trends show you first-hand that UK companies and website owners are well aware of how SEO can impact a business.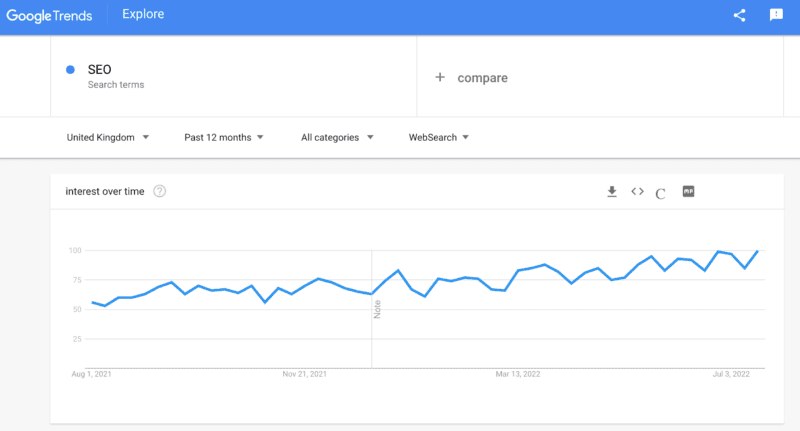 As you can see, the trend is on the up due to the power that a good SEO campaign can have on a website and it's visibility in the SERPs.
How Much Does SEO Cost in the UK?
The cost of SEO services depends on your objectives, therefore, search engine optimization cost per month will be dependent on many factors, based on what your SEO roadmap needs to look like.
This is why it's important to find out what your SEO rate will be before starting any projects, be that an SEO audit or a monthly retainer. There are plenty of companies that offer hourly rates, but not all businesses charge at the same rate – some may only assign you one or two hours per month while others require more time to complete their task.
SEO agency pricing takes into account the time required to complete various tasks, as well as the level of experience and skill needed, meaning that the cost of SEO services will be high.
The average price of UK SEO depends on the level and the ability of the person assigned to carry out SEO on your behalf. Recent figures suggest:
Cheap SEO comes in at around £500 per month
Mid-level SEO costs between £2,000 to £5000 per month
High-end SEO averages about £7,000 to £15,000 per month.
But be aware that agencies have high overhead costs, therefore will almost always charge you more compared to an SEO specialist. They also tend to look to maximize their margins due to their overheads which all too often means that they'll be farming your contract out to overseas organisations that cost a fraction of the price you're being charged whilst pocketing the difference.
This is not something that Digital Cornerstone does, period. All work is carried out by my content or outreach team at all times.
What's Included In the price of SEO?
If you're looking for an SEO company, the price of their services must align with your budget. When it comes to SEO, the hourly rate or SEO monthly cost in the UK will be determined by the number of tasks completed, and the time required to complete them.
What you'll get when paying for SEO:
Analysis of your website
Content strategy
On-page optimization
Link building
Competitor analysis report
Content marketing
What Affects SEO Pricing the Most?
The price of SEO services and SEO hourly rates will vary depending on the location. For example, London is more expensive than other parts of Great Britain like Scotland or Ireland because it has the highest standard of living and is a global city with businesses that can afford to pay more for these types of services.
The main influencers are your goals. This is because you will significantly influence how much SEO service an agency provides and if they use all possible techniques to meet those demands with close attention paid to them.
Local SEO cost is usually cheaper than national or global campaigns because the competition is usually lower. Therefore, the SEO cost for small a business is usually lower over a 6-month period.
That said, each local market is different and the cost of local SEO services may vary depending on the competition in your area. SEO pricing packages UK can be found quite easily, with most companies providing a variety of services at different rates. The cheapest SEO services are not always the best, however, as quality should also be considered when choosing a provider and SEO retainer rates.
How Do You know If the SEO Cost is Worth It?
The main determining factor in knowing if the cost of SEO is worth it is the level of competition for the keywords that you want to target. If there are already a lot of websites ranking for those keywords, it will be more difficult (and expensive) to achieve a high ranking for your website.
For example, if you look at the screenshot below from Ahrefs you'll see that if I were to target the term 'SEO' it would take me a long time to get even close to the first page. And that's because it's a super hard keyword to chase due to the sheer quantity and quality of backlinks the top sites all have.
And even though it has the potential to get me a ton of traffic, I would be up against some, if not all of the most established authorities in the SEO space, and all of them have spent years, a huge amount of effort, and money on chasing massive head terms like this one.
Therefore it's best to target search terms that fit within your reach because the cost of SEO will be high. You must be realistic unless you have a large budget and plenty of time when chasing these sorts of ultra-high competitive keywords.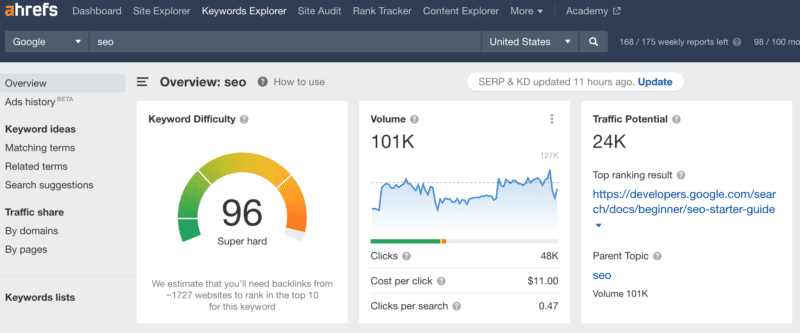 If, however, the keywords you want to target are not competitive, it will be much easier (and less expensive) to achieve a high ranking for your website. In other words, the cost of SEO is worth it if it results in a higher return on investment (ROI) than the amount you paid for SEO services.
The best way to measure the ROI of SEO is to track the following metrics:
Organic traffic levels
Estimated time to rank
Conversion rates
Established keyword rankings for pages sitting on pages 2-6
Cost per conversion
The most significant question that needs answering when considering whether something will work out well financially for your company is: "How do I know if their prices are worth paying?" The easiest way would probably involve comparing them against competitors so there's never too much uncertainty surrounding potential expenditures.
If a company quotes you an attractive price but doesn't offer anything extra in return it's not worth their service. Similarly, if they have higher rates than others yet provide a lower quality of work then choose someone else who will give more value for your money.
When looking for a company to help with your SEO strategy, you want the best possible results. That means paying attention and asking questions about what they offer so that when it comes time for payment there's no mistake!
Budgeting for SEO
In a world where over 1.2 trillion searches are made each year through Google alone, SEO likely gets left out of budget because small businesses don't recognize its importance.
When budgeting for SEO, keep in mind that the average small business makes around £100,000 in revenue annually. That means if you want your website to rank on the first page of Google for your desired keywords, you'll need to invest at least £1,000/month into SEO services (assuming a 10% ROI).
If you're not comfortable spending that much money each month, you can always hire an SEO consultant on a project basis to help you achieve your desired results, be that for building good backlinks that move the needle or systematically working through the blog of your online store so that you can meet potential customers at different points of their journey.
It's important to remember that the benefits of good SEO are long-term. In other words, you won't see results overnight, but if you're patient and keep investing in SEO, your website will eventually rank higher in Google search results, leading to more organic traffic, higher conversion rates, and more sales.
SEO Pricing Models
Cheap SEO
Nowadays there are plenty of SEO companies promising cheap and easy ways to rank higher on Google. But the unfortunate truth is that this doesn't always work.
When it comes to SEO, you get what you pay for. If you're looking for cheap SEO services, you might end up with a black hat SEO company that uses shady techniques to get your website to rank higher in Google search results. These techniques might work in the short term, but they can ultimately damage your website's reputation and could get you penalised by Google.
So, while it is possible to find cheap SEO services, you need to be careful and make sure you're getting quality services from a reputable company.
Mid-Range SEO
The cost of SEO varies depending on the level you want to go. For example, if your goal is just to rank well in Google for specific keywords without too much visibility from other sources then a £ 2000 – 6000 per month budget would be appropriate; however, this type can also result in cheaper prices since it's less comprehensive than high-end search engine optimization campaigns.
This level of work at the lower end focuses on fixing existing problems with a site – namely optimising its architecture and better tailoring content to be search engine friendly whilst working on a long-term strategy.
High-End SEO
When the search engine rankings are at stake, it pays to go big. The larger SEO agencies and major digital marketing companies can typically charge between £6K – 10k per month in UK fees for their top-level services (depending on project requirements). This is what you would expect from an agency that provides ongoing retainer or fixed-price service packages with these types of vendors – they're not cheap but they do offer quality over quantity when needed most!
These are nearly always enterprise companies that need top-end subject matter experts to work hand-in-hand with a team of SEOs.
With a high-end SEO service, you can be sure that all your technical problems will get fixed immediately. These might include things like adding and monitoring Google Tag Manager, optimising how analytical tools perform for better performance or carrying out a high-end PR campaign to land links on the most respected websites.
The idea of this level of SEO is to create an advantage for your website through targeted, dedicated campaigns that will help you beat out other competitors. This can only be done by investing in larger projects with higher budgets than what's required for smaller websites – but it pays off!
When SEO is done correctly you'll reap the rewards for years into the future.
Is SEO the Best Use of Your Marketing Budget?
To first better understand how you can utilise SEO in your wider marketing strategy, it is worth taking a step back and considering what your business's goals are. What does success look like to you? Once you have considered that, you can start to think about how SEO might help you to achieve those bigger objectives.
From there, though, it is also important to consider what your wider marketing mix looks like. What other channels are you using to market your business? Social media, for example, is an important part of digital marketing for many firms. It can be a very effective way to reach out to potential customers and clients, particularly in the B2C space.
Given that, it might not make sense to invest in a high-end SEO package if your business is only looking to generate leads through social media. That's because, in many cases, the same goals can be achieved for a fraction of the cost.
On the other hand, if you are looking to drive traffic to your website from search engines because that's where your customers are, then high-end SEO might be the best use of your marketing budget.
The answer to the question, "Is SEO the best use of your marketing budget" is, ultimately, it depends. It depends on what you want to achieve, how you want to achieve it, and whether it's the best way to reach your audience.
The 3 SEO Pricing Structures
The three most popular methods for pricing your SEO services are monthly retainers, hourly rates, and per project. In this section, we will look at each one of these in more detail to help you decide on the best option depending on what kind of business model suits your needs!
The Monthly Retainer SEO Price Structure
Let's face it: organic growth can be tough. You might not have the time or budget to devote full-time resources, so why not outsource? The monthly retainer SEO service is perfect for companies that want to guarantee access and peace of mind when they need more help growing their business long-term!
To give a bit more context, a monthly retainer is an ongoing service agreement where you pay your SEO agency or specialist a set amount each month in exchange for their time and expertise.
The average monthly retainer fee for SEO services in the UK is between £500 – 5k per month. The price will depend on the size of your business, the complexity of your project, and the level of service you require.
The advantage of a monthly retainer is that it provides your business with a predictable cost for SEO services each month. This can be helpful when trying to forecast marketing expenses and make sure that you are getting good value for money!
The Hourly SEO Price Structure
The hourly SEO service is perfect for the company with an in-house marketing team that needs help on improving its search engine rankings. The consultant will offer assistance and guidance, providing a personalised strategy to boost traffic acquisition while maintaining high ranking standards, even when Google's algorithm changes over time.
The consultant will help you understand your target audience and their needs, which in turn helps them find what they want on the web. The best part? You don't need an extensive marketing team because these experts know how to get results!
Hiring an SEO consultant is great if you have the time and resources to put into managing your project, but it can be very difficult. An agency will make sure that all their staff members are trained on how best to execute changes which means they'll spend less precious company hours doing so themselves!
The Per Project SEO Price Structure
The per-project SEO pricing structure is also an attractive proposition to less experienced business owners or business owners that are looking to set out their profit and losses for the coming year.
This type of approach generally leads to a larger upfront commitment, but it often works really well because both parties start the project knowing that it'll get finished, which often isn't the case with inexperienced business owners that don't really understand the SEO industry.
That's why it is important to make sure you hire a quality SEO company or freelancer that will help your business grow organically on Google by utilising state-of-the-art software and data without sacrificing good practices.
"Cheap," or low-quality services might seem tempting because they can get the job done quickly but these companies often end up getting their clients' sites penalized due to black hat tactics like using PBNs (Private Blog Networks), spun or copied content, etc.
Conclusion
Now that you have a better understanding of the SEO Costs and the three most popular methods for pricing your SEO services, it is time to decide which option is best for you and your business.
Monthly SEO retainers are perfect for businesses that want guaranteed access and peace of mind when they need help growing their business long-term. On the other hand, hourly rates are great for companies with an in-house marketing team that needs help boosting their search engine rankings and authority.
If you're looking for quick hacks, per-project SEO might be the right option for you, but be aware that these services often end up damaging your website domain name and overall success in the long run. Whichever pricing structure you choose, make sure to do your research and hire a quality SEO company that will help your business exponentially grow organically.