In today's competitive eCommerce landscape, achieving high search engine rankings and driving organic traffic is crucial for the success of any online store.
And as the Shopify platform continues to grow in popularity among eCommerce store owners, many are searching for ways to improve their store's visibility on search engines like Google, and one option is to use Shopify SEO apps that claim to enhance the site's search engine optimisation (SEO) capabilities. But are these apps worth using?
As an eCommerce SEO consultant, I'll examine various aspects of Shopify SEO apps, including their key features, advantages, and potential drawbacks, to help you make an informed decision as to whether or not you really need them.
Is Shopify good for SEO?
Firstly though I think we should look at one fundamental question, is Shopify good for SEO? And the answer is yes, Shopify is good for SEO.
In my detailed Shopify review, I cover many aspects of why I believe Shopify is such a good option for the vast majority of businesses looking to start an online venture, and one of the main reasons is that Shopify enables you to cover all of the basics of SEO quickly and easily.
You have full access to everything from the page titles, heading tags, image alt tags, product and collection content and menu structure, everything is designed and built into Shopify already. You even have direct access to the code of your store if you need it, which immediately reduces the number of apps you need to install.
For example, the Yoast SEO plugin Shopify is now offering is completely unnecessary in my opinion.
From this great starting point and with all of the Shopify benefits, you then need to go on to build backlinks and expand your topical authority through your Shopify blog and internal linking structure, but with Shopify, you have all of the main features you need to build the bedrock of a high-ranking eCommerce store at very little cost.
Which Shopify SEO apps should I use?
Instead of simply listing out a whole load of Shopify SEO apps that you simply don't need and will cost you on a monthly basis, I'm going to show you the apps that will or at least could benefit your Shopify store if you instal them.
And just like WordPress and WooCommerce, (and all other CMS) Shopify offers a lot of plugins that claim to create tons of amazing benefits and have incredible features, but in all honesty, when it comes to Shopify SEO you don't need many.
The best SEO apps for your Shopify store
The key features of Shopify SEO apps that are worth having have one thing in common, they take care of jobs that would cost a lot of money in development time if you were to hire a dev to code it into your site, such as:
Improve site speed
Increase your visibility within Google
Increase the amount of time customers spend on your site
So without further ado, let's take a look at the two types of Shopify SEO apps that I, as a Shopify SEO consultant think you should consider installing.
Image optimisation app
Installing an image optimisation app is crucial for all online stores because, by their very nature, they're incredibly image heavy, which can and will slow your site down (check out my guide on Shopify speed score accuracy) and cause customers to bounce back to the SERPs if they cause your site to load slowly.
Not to mention the dramatic effect that a slow-loading site will have on your conversions…
I run my own Shopify projects and on all of my sites, I use Crush Pics to optimise my images. It genuinely does it's job well, hence the reviews, and is cheap for what you get in return.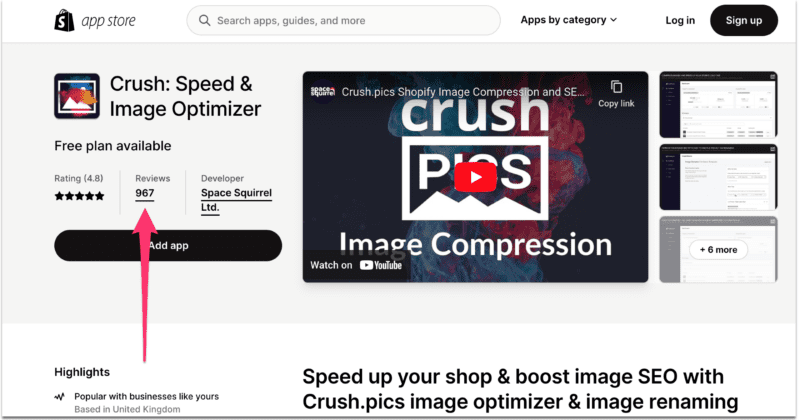 Crush Pics is an excellent app that allows you to seamlessly do the following:
Speed up your shop & boost image SEO with Crush Pics image optimization
Automatically rename image files and ALT tags to aid discovery in search engines
Choose your compression and renaming settings once and let Crush Pics work away
Manually add & compress images, as Shopify doesn't provide access to all images
Test & choose between different types of image compression algorithms
Below is a screenshot from one of my sites showing what the dashboard looks like after you've installed it and uploaded your products to be optimised.
You can see that the images have "crushed" the file sizes dramatically which makes a big difference in loading times, especially on mobile.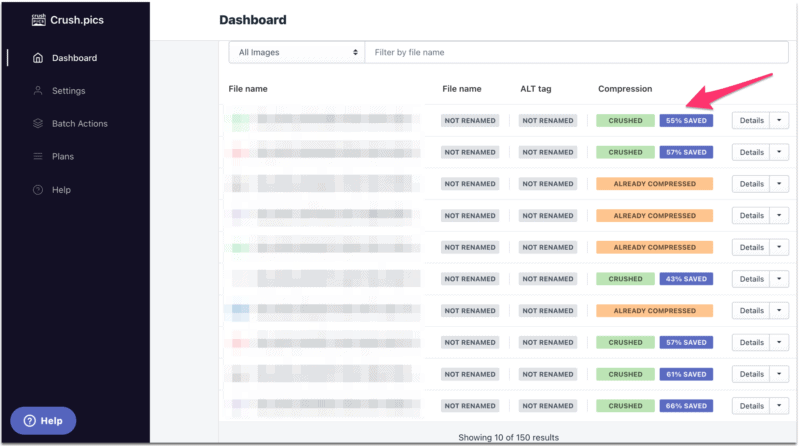 Schema App for reviews
The other important app that every Shopify store owner should install is an app to gather and show reviews on two vital, but different areas.
Your store's product pages
On the SERPs
And yes, you might look at both points and think, those aren't going to help with my SEO…
But you'd be wrong because they will help with your SEO, all be it indirectly. But before I answer how they help, let's start by looking at why you need them.
Firstly, the need for reviews on your product pages should be obvious to everyone because they provide great social proof from customers that will speak honestly about your products, along with those all-important star ratings.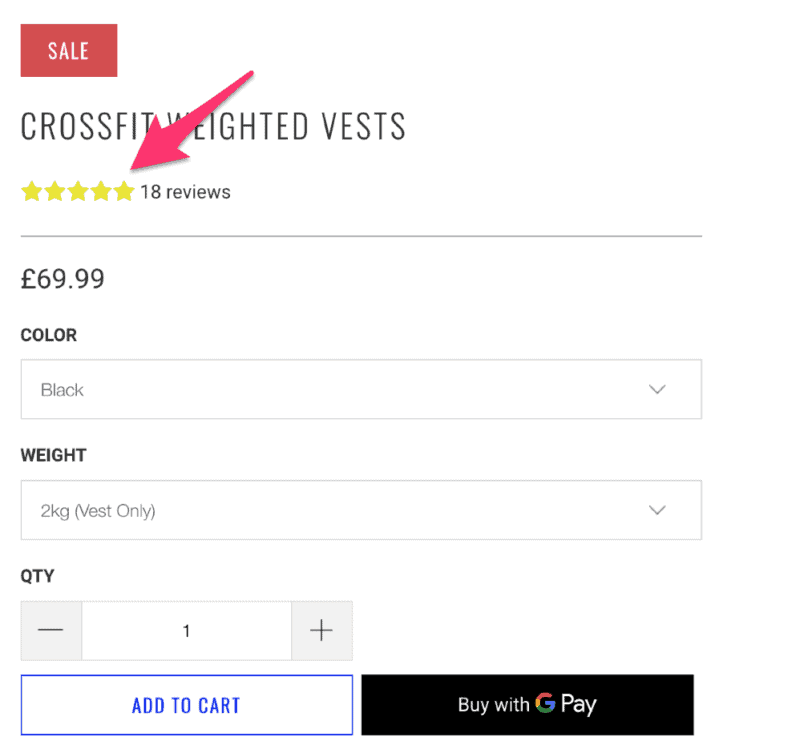 Secondly, and arguably most importantly, is that those ratings will be displayed in the SERPs as aggregate ratings along with beautiful yellow stars that stand out in the SERPs and will catch the eye of your potential customers, who in turn will click on your listing and hopefully buy your product.

And let's not forget that there are two really important things to remember when competing in the SERPs:
The results pages for eCommerce-related searches are ultra-competitive so you need to differentiate yourself from the rest of the listings.
The further away from the number 1 spot you are the less chance your products have of being clicked on.
But if you can stand out by showing your star rating to the searcher you will massively increase your chances of your products being clicked on.
So on to the question of "how they will help with your SEO"? And the answer is this – user satisfaction signals.
With eCommerce stores, Google looks for a wide range of signals to judge whether or not your product/collection page should be displayed prominently in the results pages, and it's highly likely that user signals such as click through rate (CTR) and whether or not users land on your site and immediately bounce off again will have an impact on how highly you rank.
So going back to showing your star rating in the SERPs. They'll increase/improve your CTR which for eComm sites is a good signal.
Which review app is best?
This, unfortunately, is a question I'm not going to give a definitive answer to because it will come down to various factors such as price, compatibility with your theme and how much control you have over the app's look, feel and customizability.
However, all of the well-known and trusted review apps are available through the Shopify app store. Companies such as reviews.io, Yotpo and judge.me all offer plans at various price points, including free.
Other things to remember when adding apps to your Shopify store
Shopify SEO apps offer a range of SEO functions designed to help your online store rank higher in search engine results. On top of some of the common features include meta tag optimisation, product page enhancements, and blog post optimisation. Some apps also provide smart SEO suggestions based on Google Analytics data, helping you refine your SEO strategy.
However, there are other things to consider when choosing apps to use.
Free Trials and Free Plans
Many Shopify SEO apps offer a free trial or a free plan, allowing you to test their features and gauge their effectiveness before committing to a paid subscription. This can be an excellent opportunity to explore different apps and find the one that best fits your store's needs.
While using Shopify SEO apps may help increase your store's visibility and organic traffic, it's essential to consider the potential impact on your store's finances. Some apps may require additional transaction fees or integration with Shopify Payments, so be sure to factor these costs into your decision-making process.
Shopify App Store Ratings and Reviews
Before choosing a Shopify SEO app, it's essential to research customer reviews and ratings in the Shopify App Store. Pay close attention to both 1-star and 5-star reviews, as they can provide valuable insights into the app's performance, ease of use, and support.
Standard and Month-to-Month Support
Shopify SEO apps typically offer standard support to help you with any issues that arise while using the app. Some apps may also provide month-to-month support, allowing you to access additional resources and assistance for a limited time.
Effectiveness of Shopify SEO Apps
The effectiveness of a Shopify SEO app largely depends on how well it aligns with your store's specific needs and your ability to execute its recommendations. While some apps may provide valuable insights and tools to improve your store's SEO, others may not offer the same level of impact. It's crucial to carefully evaluate each app's features and customer reviews to find the one that will deliver the best results for your store.
That's a Shopify SEO app wrap
Shopify SEO apps can be worth the investment if they provide the necessary tools and insights to help improve your store's search engine rankings and drive organic traffic.
However, it's crucial to thoroughly research each app's features, customer reviews, and potential costs before making a decision. By taking the time to find the right app for your needs, you can optimise your e-commerce site for search engines and boost your store's visibility and revenue.