There are no limits to the number of products you can sell on Shopify, however, you do need to be aware that each Shopify plan has product limits.
You're able to add as many products as you need to your Shopify store as you need, and there are also no limits or restrictions to the number of products you can sell to customers on a monthly basis making Shopify the perfect shopping cart for sellers looking for scalability and running a dynamic website.
Shopify is ideal for both large and small sellers and is flexible enough to deal with pretty much every need.
Shopify product limits
Shopify does however limit your ability to upload products based on the plan you're on. Here's the breakdown for each plan:
Basic plan – 3,000 products
Shopify plan – 5,000 products
Advanced plan – 10,000 products
And if you need the ability to add more than 10,000 products to your store, you will need to contact Shopify to discuss a custom plan.
How many products should I start with on Shopify?
The answer to this question will be found within your business plan and what it is you're trying to achieve. You can start with 1000 products if you have the ability to fulfil them, or one product if that's all you need Shopify for.
Shopify is a widely-used e-commerce platform that enables small businesses to create their own online store and sell products directly to consumers without a license, but it's not going to get very far without knowing exactly where your customers are, how you're going to reach them and what it is that'll make them buy from you.
The platform offers various features that will make your life easy, including an easy-to-use interface, built-in marketing tools, and the ability to accept payments, but you must know the ins and outs of your customers first.
Best Shopify store features for large inventories
Owning a Shopify store gives you great features at your fingertips, but some of the best features it has are the way in which it handles product uploads, product variants and online payments.
Uploading and optimising products are incredibly straightforward due to the fact that Shopify was designed specifically for eCommerce sellers that want to sell directly to the public (D2C).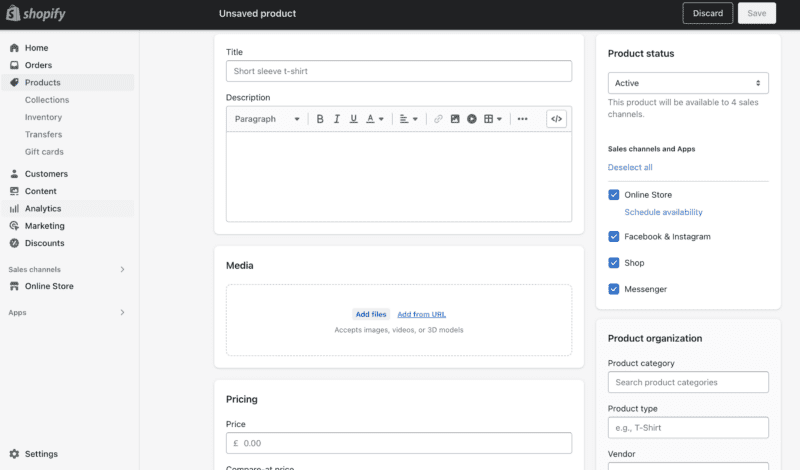 As you can see from the screenshot above optimising your product listings is done at the click of a button. You also have the ability to upload images, set your prices and add variations.
And whether you have large or small inventories, you can use the platform's shipping features to manage shipping rates and print labels.
You can also upload products in bulk if you need to with relative ease.
With regards to Shopify Payments, Shopify accepts payments from customers both online and in-person with Shopify POS (point of sale). You can also use multiple payment methods such as PayPal, Shop Pay, Google Pay, and accept all major credit cards.
Overall, while Shopify has its disadvantages, it remains a popular and effective platform for businesses to build and manage and grow an online store. Businesses can take advantage of the free trial and basic plan to test the platform before committing to a Shopify plan that meets their needs.
Disadvantages of using Shopify
One disadvantage of Shopify is that it may not be as customizable as other platforms, such as WordPress and WooCommerce, which could make it difficult to create a custom website or eCommerce store. Especially if you need many different categories and sub-categories.
Shopify also charges a transaction fee on every sale using Shopify Payments, with higher fees for the Basic and Shopify plans.
The Basic and Shopify plans also have limited features and functionality in comparison to the Advanced plan and Shopify Plus.
Additionally, the cost of Shopify's themes can be somewhat expensive, particularly if you require a custom design, but they are worth it because the more expensive themes are better developed and convert customers better.
Another drawback is that Shopify may not be as user-friendly as other platforms for people just starting out, making it challenging for new businesses to get started on the platform.
To address these issues, businesses may use Shopify apps, which provide additional functionality, such as SEO and social media tools, to increase organic traffic and enhance online visibility. Businesses can also use Shopify to manage inventory, taxes, and shipping rates, and offer product bundles or collections to increase sales.
In the United States, Shopify enables businesses to set sales tax rates for their products and offers a tax override option for those who need to apply different tax rates. Shopify also offers an admin panel that enables businesses to manage their site and product pages, as well as create product categories.