The question, are long URLs in Shopify bad for SEO is something I see asked on forums or social media from time to time, and is something I've questioned myself.
And the answer is no, long URLs aren't an issue for SEO, they just look ugly.
In fact, I'd strongly argue that longer URLs that include the main search term your page targets are very good for your organic visibility in the SERPs because the URL is one of the places Googlebot expects to see your main search term or a very closely related search term.
I try to add the main search term or at least a shortened version of it in every single URL I create. Take this web page as an example, I'm targeting phrases around – are long URLs in Shopify bad for SEO and the URL of this page is digitalcornerstone.co.uk/resources/long-urls-shopify-seo – and in all honesty, that's quite long.
But I really don't care because it helps Google understand the page, which is all I want.
And before anyone comments, yes I'm aware the URL above is a WordPress URL and not a Shopify URL. I'm simply making the point that long URLs don't hurt organic visibility in Google.
URLs, or uniform resource locators, are simply the web addresses that users click on to access a specific page on a website. They are an important part of SEO because they provide information to search engines about the content of a page.
Changing the URL handle on Shopify
On Shopify, the platform generates URLs for products, collections, and pages automatically, based on the information provided by the business owner. For example, a product page's URL will typically include the product's name, and a collection page's URL will typically include the collection's name.
You can see these URLs when you filter through the menu on the live store.
However, from time to time you might decide that you aren't happy with the URL structure/handle and want to change it because it doesn't target the page very well.
This is usually because whoever built the collection didn't think or realise that it's important to use keywords within the URL, and Shopify has generated the entire URL for you.
Thankfully, as with pretty much every content management system (CMS), Shopify makes changing the URL to something a little more SEO-friendly easy.
To change the "handle" follow these steps:
Log into your dashboard and click on the collection page button (obviously this could be a product, too).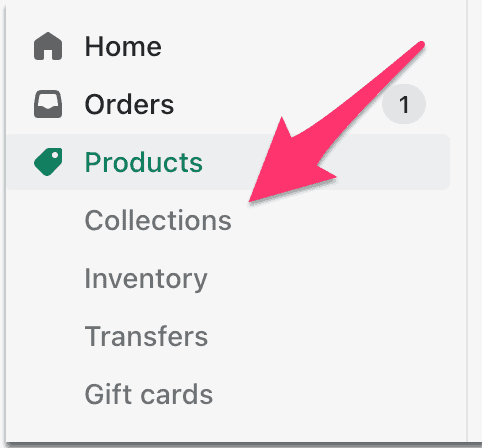 Next, click on the collection page you want to alter, head down to the bottom of the page and click on the edit button.

Then change the end of the URL to what you want it to say and click save.

And Shopify will redirect the old URL to the new one. Just be aware that this can have a negative impact on your SEO because you're giving Googlebot a brand-new URL.
Yes, it's been redirected as you can see from the "create a URL redirect for" button being ticked, but it will still have an effect on your rankings if the old URL was established, is ranking well in the SERPs and has links pointing to it.
And if it is the case that you have links and rankings already then I suggest that you leave it alone.