The world has changed quickly and dramatically over the last few years, in a way that none of us could have imagined. Businesses have been forced to adapt at lightning speed as consumers buying patterns, everyday life and decisions have changed.
It's also now more critical than ever to have an online presence for your business because your customers are comfortable with online shopping and either having it directly shipped to them or at least giving them the 'click and collect' option.
And this is why I recommend Shopify for small businesses as the number one choice for running a small business website.
Along with your small business plan, Shopify will provide you with everything you need for your small business website.
Key takeaway
Shopify is a good fit for small businesses due to it's large range of features, ease of use and scalability. In fact, your ideas should only be attached to a Shopify small business website if you're intending to take payments online.
How to start a small business on Shopify will come down to your small business plan and what you want to achieve, but Shopify itself is flexible enough to let your ideas become a reality in no time at all.
Shopify for brick & mortar businesses
If you own or run a traditional brick-and-mortar shop that needs to take electronic payments, then not only will Shopify's platform be ideal for your website, but it also offers a POS (point of sale) option to take in-store payments.
For example, the Shopify POS works alongside:
Cash drawers
iPad stands
Receipt printers
Barcode scanners
This gives you ultimate flexibility and integration because the POS automatically syncs up with your website. All you need to do is choose which POS best suits your needs.
Which of the two POS systems is best?
Shopify offers two different POS, Shopify POS lite and Shopify POS Pro, with the 'lite' version included with all Shopify plans should you need it.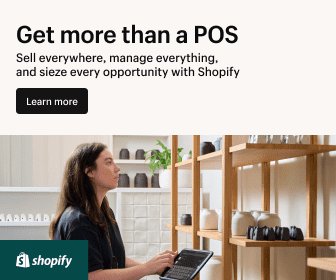 Here's an overview of what the lite version offers:
Email cart add-on
Product QR codes
External card terminals
Gift cards and discounts
Partial payments
Split tenders
Custom payment types
Popular payment method support
Low in-person card rates
Shopify hardware integration
Cash flow management tool
No hidden fees
POS Hardware
POS Software
Connectivity screens
Free shipping and returns for POS tools
Compatible accessories
Customized checkout
Global search
Mobile checkout
Taxes
Custom discounts
Custom receipts
However, if you need a little more from your POS, the Pro version offers everything in 'lite', plus:
Pick up in-store purchasing
Shipping support
Custom receipts
Save/retrieve cart options
Unlimited staff support
Stock adjustments
Purchase orders, inventory counts, inventory tracking
Sale item suggestions
Detailed inventory reports
Cash tracking and sales reports
Demand forecasting
Low stock reports
You also have the ability to set up your POS to accept a wide range of payment methods.
If you're using an iPhone or iPad, your customers can use pretty much any method of payment, and if you're in the UK or Ireland, you can take contactless payments, chip and pin or swipe.
9 reasons why is Shopify good for small businesses
Shopify is the perfect choice for 90% of small businesses, whether you own or what to start an online business, brick and mortar business or a service business that needs to take payment upfront, there's a broad range of reasons why Shopify will be a good fit for you.
1. Easy to use
One of the main attractions of Shopify is that it's incredibly easy to understand and set up. There are no coding skills required and the technical knowledge you'll need will be picked up quickly as you go.
As a platform, it's very intuitive and user-friendly and effectively works as a page builder, or as it's more commonly known, drag and drop. You can even have more than one store if you like.
All you need to do is to choose your store name, choose a plan, pick your theme and create a stunning store to give your customers a great user experience.
2. Shopify has a great range of features
Everything you need from your website is built into Shopify so you don't need to worry about missing features as you grow. For example, Shopify comes with:
A great range of both free and paid themes to suit every single online store that'll help show off your brand in the best possible light.
Product and collection pages that allow you to add products, videos and descriptions that you can use to sell your products and make people fall in love with your brand.
A payment processing system that allows you to add everything from PayPal to Shop Pay, to Klarna, as well as accepting all major credit cards.
An inventory management system that you have complete control over, meaning you'll never have to worry about stock management software.
Shopify also offers integration with shipping providers, to give you the best delivery prices at all times.
Analytics tools that give you access to key data points and information on sales, traffic and marketing campaigns.
Enough variations and attributes to suit every need.
3. Scales with you
Shopify is designed to grow with you as your business grows. Meaning, that as your traffic, products and/or staff levels increase, so does Shopify.
And the more you scale with Shopify, the more features and support you receive, which in turn allows you to do more with your store. For example, if your store grows to the point where you need a custom build and features, there's the option for you to upgrade to Shopify Plus, which is their top-tier platform that's used by some of the world's best-known brands, such as Gymshark, Huel, Heinz and The Economist, to name a few.
4. You can trust Shopify
Shopify has been around since 2006 and has grown into one of the world's leading eCommerce platforms with over one million stores using it today. Therefore, you can absolutely trust that they'll be around in the years to come.
It's also built on a solid framework and code base, meaning it'll always run smoothly and will be as safe as possible from hackers.
Shopify is also PCI compliant, which means that all online transactions are safe and secure.
5. Shopify is affordable
Shopify has 3 pricing plans available:
Basic – £19/month
Shopify – £49/month
Advanced – £259/month
This means that there's a Shopify store price point for every budget and business size, and all come without any hidden fees or long-term contracts, unlike many other content management systems.
The most you'll pay is for a year, which is what I recommend because this way you pay less than you would if you paid monthly.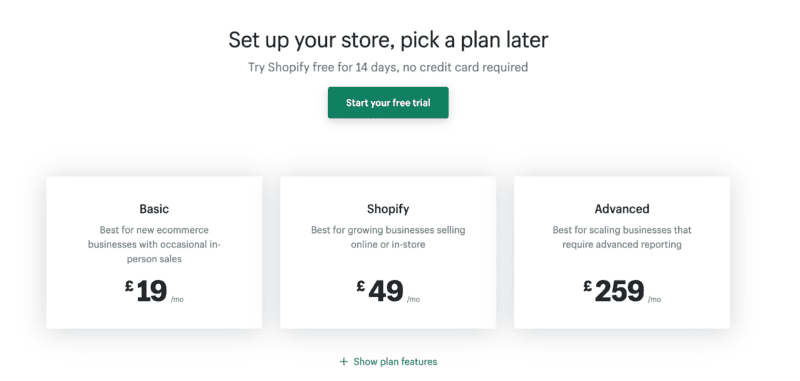 Check out the plans and everything you get with them here.
6. Army of developers and specialists
One of the biggest attractions is that there are literally thousands of developers at hand to help with your every need!
Whether you need a developer to help you customise a theme, a designer to make your store stand out visually, or a Shopify SEO service to drive tons of organic traffic to your site every month, there's a professional at hand for everyone.
7. Shopify integrates with other platforms
If you sell on platforms such as Amazon (and don't use FBA) or eBay you can link up your Shopify store so that you have complete control of your inventory and don't oversell.
You can also integrate seamlessly with all social media channels such as Instagram, Facebook (Meta), Pinterest and Twitter, giving you the ability to sell directly to your customers/followers without them having to leave the social media platform.
If need be, you can also integrate your Shopify store with the most popular CMS like WordPress.
8. Shopify is great for running ads
Shopify is also great for advertising, and there are a number of great apps that will integrate directly with your Google Merchant Centre, such as Symprosis, which will make sure that all of your product details and data is up to date and feeding all of your products key information directly to your Google shopping feed.
9. Great for SEO
Small business marketing is essential if you're to succeed, and Shopify is a great platform for SEO. It comes ready with all of the basics needed for setting up your on-page SEO, so you'll instantly have an advantage in the SERPs.
I won't go into too much detail here, because I've written a post detailing everything you need to know in my is Shopify good for SEO article.
What small business can I start from home using Shopify?
If you're looking to supplement your monthly income and are brainstorming small business ideas from home, then I believe there are some things that you need to keep in mind, especially as you look to grow your side hustle.
For example, when planning your small business idea at home there are several factors that need to be accounted for, such as space to store products, time available before work, after work or at weekends to work on marketing and your accounts etc.
Not to mention the fact that 99% of all start-up ideas WILL mean you'll be spending much less time with friends and family. All of which are unavoidable.
But if you're happy to commit to a new venture or project, then below is what I would recommend starting with.
Products
Shopify is built with eCommerce sales at it's core, and getting up and running with selling products has never been easier, whether that's selling personalized clothing made by hand with an individual design, video game console accessories or drop shipping, you can take complete ownership of the entire selling experience.
Working on the basis that you're looking to store and sell your products from home, I recommend you start with small and light products that don't take up much space, are cheap to ship, will mean that you won't need a warehouse, and most importantly, are cheap to buy.
There are many things to consider when choosing your products, but the most important factor overall is what your gross and net profit margins look like. How much after all the marketing, shipping, cost of goods (COG), payment fees and professional fees will you be left with?
I also recommend taking your time when sourcing and purchasing from places like Alibaba, because it's easy to be fooled into buying from companies that are acting as factories, that are in fact middlemen, making a slight profit from you as they deal with the factory instead of you.
Factories will generally have higher minimum order quantities and will have (generally) been in business for years, so hire a sourcing agent if you're unsure.
Service business
Shopify is also ideal for service-based businesses that need to take payment upfront, as it gives you the option to set countless variations depending on your offerings.
Your website needs to fit into the internet to show your expertise within your market and explain how you stand out from the competition.
So if you're considering setting up a service-based business, Shopify could be perfect for you because it means no more chasing invoices or worrying about payment processing or web hosting, leaving you to concentrate on finding and converting potential customers into paying customers.
Check out my selling a service on Shopify article to find out more about why selling your service on Shopify is a good idea.
Digital products
As with service businesses, Shopify is good for small businesses selling digital products such as digital downloads, templates or subscription business model SaaS (software as a service) products.
If you're an expert in your field or have ideas that could benefit others through downloads or education, then what better way to make an extra income than to turn it into a product that people can buy directly from you?
That's a wrap
When looking for ideas for a small business online, the product or service is just the beginning, because, without the means to sell that idea to the public, it's basically worthless. What is entrepreneurship without launch?
Shopify gives startups ultimate flexibility over their ideas and concept in a way that other website builders such as wix.com and Squarespace simply cannot compete with. From it's ease of use to it's affordability, Shopify is a great fit for your small business and will scale with your as your company grows.