Selling on Amazon must never be approached as an ad-on to selling on your Website, and as such sellers must pay special attention to their stock levels at all times. If you don't and you run out of a popular line, the impact will be twofold.
You instantly lose sales to your direct competitors
Your organic rankings will suffer because Amazon will see you're out (or even just low) on stock
Therefore I would argue that using eCommerce inventory management software is a must-have rather than a might-have if you're serious about selling on the Amazon platform. In fact, without sounding too dramatic using, using inventory management could be the very thing that allows you to scale your Amazon sales with minimal fuss as it will allow you to deal with fluctuating sales, slow-moving products, and Amazon storage fees.
These days, due to their storage fee structure Amazon simply cannot be your long-term storage solution, so here are my top four inventory management software solutions.
#1 Teikametrics
Teikametrics offer an inventory management system that allows you to study and track your profitability as well as offering suggestions for new sales opportunities.
Now don't get me wrong, Teikametrics is expensive for anyone starting out but that's because it's an all-in-one solution for sellers wanting assistance with the following:
Enhanced product page content
Optimized product launches
Advanced advertising and management
Brand strategy and placement
Brand registry setup and trademark management
Liquidity support and potential acquisition introduction
Inventory optimization and reordering
Inventory financing
Teikametrics is the ideal solution for large-scale and rapid growth sellers because of it's leading-edge inventory management system.
#2 Sellics
Sellics let's you see precisely how much time you have left to reorder each of your products listed on Amazon, with it's a fully customizable management system. This means it'll calculate your sales velocity in real-time along with each product's delivery timescale, meaning the chances of you running out of stock drastically reduce.
With the Sellics inventory management system, you can input delivery times for each product and have all of that hard to remember information all in one place, taking the stress out of remembering to contact suppliers at certain times in the lead up to low stock counts and busy periods because the software actually tells you when your ordering needs to be done by.
Above is a screenshot of how simple the Sellics inventory management dashboard is to study at a glance. And for those of you that don't already know, Sellics also has a full suite of products for Sellers and Vendors, including:
Profit tracking
PPC managing
Keyword optimization
Competitor monitoring
Product research
Review management
Inventory management
Sellics is a top-quality solution for serious sellers that understand the power of data and organisation.
#3 Restock Pro
RestockPro is the intelligent inventory management system that simplifies your FBA stock headaches by forecasting your sales and is designed specifically for looking after your stock.
Here's RestockPro's full list of features:
Profit maximiser for your top and most profitable products
Accurate forecasting
Purchase order tracker
Simple and accurate shipping labels
Inventory management should be quick and easy or you're doing it wrong, and RestockPro makes this a walk in the park, and with prices ranging from $99.99 to $599.99 per month, it's an affordable winner.
#4 Cash Cow Pro 
As with lots of Amazon seller software, Cash Cow Pro boasts a range of features alongside its inventory management solution, such as:
Sales data that let's you know your profits in real-time
Keyword tracking with up to 100 keywords per product
Automatic feedback collection
Profitable product finder
Page view and conversion percentage
A/B split testing
Inventory management (obviously)
As for the inventory management itself, it's very similar to Sellics in how it reminds you to order when you're running out of stock.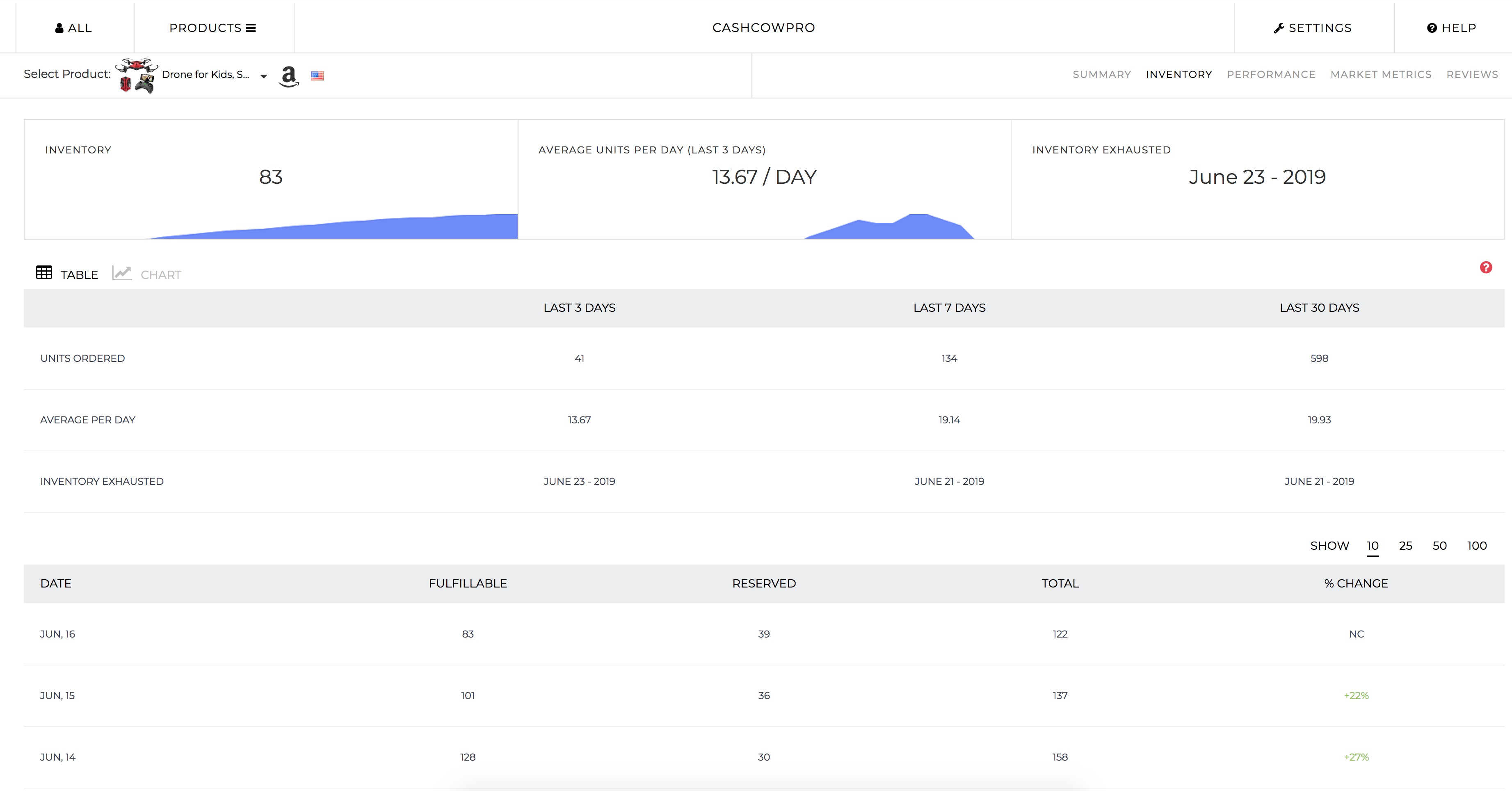 And as you can see has an easy-to-understand dashboard that let's you track your vital info at a glance. In a nutshell, it's more than able to look after your inventory for you and I highly recommend it, with two pricing options, $99.7 monthly or $997 if a yearly upfront subscription is taken out.
Conclusion
I hope this article has given you an idea of what my chosen inventory management solutions can offer you and most importantly why you need one. At the end of the day, it's been proven on numerous occasions that running out of stock can seriously hurt your Amazon rankings, let alone guarantee you lose money to a competitor, and unfortunately, as an Amazon SEO service provider, I see this all too often.
But at the end of the day, your choice must come down to your needs, and as you'll have noticed they all do more than just study your stock levels, it just depends on what else you need your software to actually do for you.