Roughly 70% of all Google searches have some form of local intent behind them, so it's straightforward to see that local SEO benefits are huge!
Therefore, it's really important you're correctly targeting local traffic, including your GMB listing (or Business Profile as it's now known) for each and every web query that's relevant to your target market.
Driving local traffic to your website through optimized intent-based content that focuses on SEO and Google My Business is a big deal in this day and age, and I perfectly understand why. With the domination of mobile-driven searches, more and more people are looking for things to see and do around them, directions to cafes and searching for services and tradesmen that cover the area they're in.
Plus, mobile search is inherently local and Google is tracking everyone's location, always… They will also serve up web pages based on keywords, entities, and user intent so there has never been a better time for your business to be found by the potential customers in your area. Basically, if you own a business that targets the people in your area you simply can't afford to not be in front of them online because if you're not in front of them your competition almost definitely will be.
Sounds straightforward enough, doesn't it? Well actually it is, but to maximise the potential growth that local search can have on your business, your website needs to be set up correctly so that your services are in front of your ideal customers as and when they need it. So have a read of my breakdown on how to optimise for local search and apply it to your own site and GMB listing.
Local SEO guide & the basics of setting up your GMB
Arguably, the most important aspect of local SEO is ensuring that you have a GMB (Google My Business) listing set up and verified because in so many instances your GMB page will effectively become your home page as this will more often than not be how new customers will find out about you, so this section is critical. It's also totally free.
And whilst everything I'm about to say might sound obvious, it's surprising how often the basics SEO benchmark of setting up a GMB are overlooked, so let's start with the easy things 1st with a local SEO audit checklist.
Is your listing verified?
Does your listing link through to your website, preferably your service page?
Have you added a phone number?
Are your opening hours set up and accurate?
Have you added a few photos of your vibrant workspace with happy employees and customers?
The info section of your GMB
This section of your GMB is key when it comes to optimising your listing. This is where the bulk of your key information is added so make sure you take the time to go through everything outlined.
Business Name: Fill out the info section of your GMB listing fully by choosing a business title that people will search for in the real world plus your company name.
Business Categories: Next select the most relevant primary category for your business, followed by a handful of secondary relevant categories. I'll go into more detail on the categories, below.
Business Location/Google Maps: Set your business location if you have one and you want customers visiting you, this will allow customers to grab directions to you directly from your GMB listing on Google. If you don't have a business location leave it blank. See below for reasons you MUST set up your location if you have a physical address.
Service areas: Set the areas you cover. I generally don't set this too broadly and aim to keep it to roughly 40-60 square miles, whilst ensuring all of the important/affluent areas are covered. Anything over 60 miles will be ignored by Google and potentially stop you from showing up as much as you would like to your closest customers.
Opening Hours: Next set the business opening hours. Make sure the opening hours are the same across all websites that have this information.
Special Opening Hours: If special hours such as Christmas opening times are important then make sure this isn't neglected. Customers WILL look to see if you're open and if you haven't updated them and you aren't open then expect a bad review.
Phone Number: Pretty self-explanatory but is often missing.
Short Profile Name: Enter a profile short name that makes it easier for customers to find and follow your business on Maps and Search. This might not always be available but it's worth doing if you can.
Website URL: Next enter the URL of the page you want to customers go to from your GMB listing.
Appointment URL: If you want to allow customers to book appointments with you directly from your GMB page then enter the URL here.
Services: This is where you get to talk about the services you offer. Don't be afraid to add a number of services as this helps Google get a better understanding of what you do and to who your listing should be shown.
Products: If you have products to showcase then here's where you do it, free of charge.
From The Business: Describe your business and what you do. This section is what your potential customers will see so make sure you cover the services you offer and how you can help. BONUS TIP – When searching for a service, restaurant, etc, Google will automatically know what part of the country you're in. What you also might have noticed is that when you start typing on your mobile one of Google's suggestions will often have 'near me' with it, so I recommend incorporating 'near me' plus your service into your description somehow.
Optimise the photos of your GMB
People are visual creatures and often make snap decisions about a company based on what they see first, and if you have plenty of photos with happy, smiling employees and/or customers then your clients are more likely to want to come to your premises or book an appointment.
Photos in your area: Take photos in the area(s) you're targeting because there's a chance that Google will geo-tag the photo and link them to the area you're in which helps promote you in that area, therefore seeing you as more relevant. I also recommend you upload them to your GMB listing whilst still in that area.
Captions: If at all possible add captions to your photos explaining what you're doing and where you are.
Making the most of reviews
Like most platforms, Google is very keen to promote companies that have good reviews and companies that respond to reviews, so make sure that you request them from customers that you know are happy with your service because it goes without saying, positive reviews win business, so when you get positive signals about the work you've carried out don't be afraid to ask politely for a review.
But most importantly, respond to reviews because Google rewards companies that take the time to respond to customers – it's part of their algorithm!
However, I do not under any circumstances endorse buying fake reviews. Apart from being completely unethical, Google has become incredibly good at catching people trying to game the system and they will shut down your listing.
Optimise the Q&A section
Unlike reviews, it's perfectly acceptable to write and answer commonly asked questions that customers might have. This helps searchers overcome any initial hurdles they might have, so if you get asked the same questions on a regular basis then utilise the Q&A section.
It's also worth getting friends and family to give these Q&As a thumbs up as this will help position you better in the knowledge panel.
Look at the Q&A section as strategic management that helps customers that are new to your brand and are learning about your products or services.
This goes for both retail stores and online-only businesses.
Update regularly with posts & updates
This might not sound like something you want to dedicate too much time to, but in all honesty, people overthink this aspect of updating their GMB.
My advice here is to update your posts section with the blog posts from your website and with important updates if you have something people need to see or would find beneficial.
Posts: Use the posts/updates section and talk about the services you offer in the areas you offer them. As already mentioned Google uses 'near me' a lot so add something like 'looking for XXXX near me?' This will add more weight to both Google's local algorithms and be a good physiological trigger for customers.
Link to your website: With posts/updates you have the option to give users the ability to read a little intro to something you do, then link back to a page on your website. I like to write a little, short introduction to an article I've written and then link back to the complete article on the website. Note: This might not always be possible as Google is constantly changing what you can and cannot do with this.
Why setting up Google Maps is so important
Setting up and utilising Google Maps is possibly one of the most underused tools in your company's armoury, it's also one of the quickest and most effective ways to let your future clients know you exist. Basically, anyone searching on a mobile (remember, Google is aware of the location of the vast majority of us at all times) will have local companies listed in front of them whenever they ask Google for an answer that involves a business service of practically any type.
Google Maps is vital for businesses with a physical location, and a hypercritical aspect for ranking in the 3 pack at the top of the SERPS, which is where the eyeballs are the moment Google returns the results page to you. And with the vast majority of Google searches being performed on mobile coupled with Google linking searches to location, optimising your Maps listing is a must because it can funnel thousands of potential customers to your business.
The best part of Google Maps? All you need to do to show up in Google Maps is to follow everything I've laid out above.
Advanced GMB optimisation
Now that the guts of the info section have been completed it's time to look at some more advanced techniques used to optimise your listing so that you get the most out of it.
These are things I always address when a business asks for my local SEO services because they often make such a big difference to the quality and quantity of leads.
Attributes – There are now options to add in a range of helpful attributes that will help your customers, especially if it's a shop that you're working with, such as:
Health & Safety: Do you have perspex dividers at checkouts or sanitise work surfaces?
Service Options: Is curbside pickup, drive-through or dine-in or takeaway available?
Payment Options: Is it cash or card only?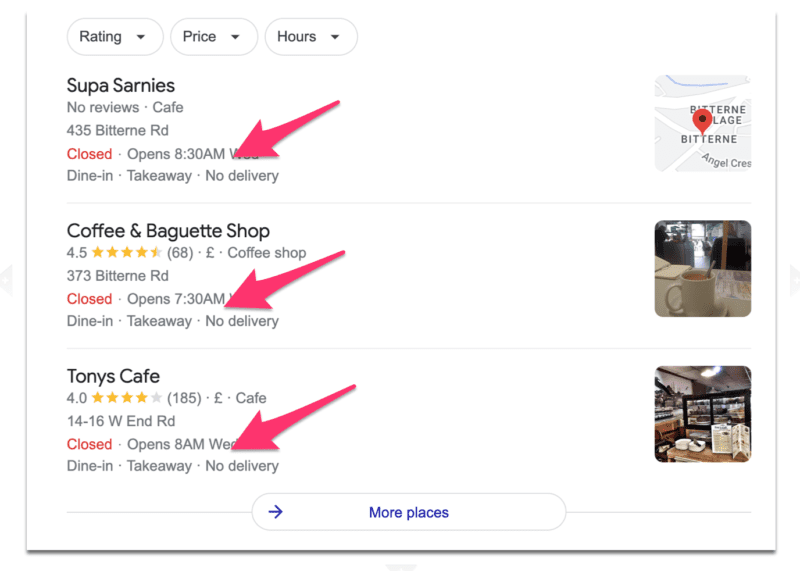 Service categories – This is where you'll have the chance to win the bulk of your custom because getting this right can be the difference between a trickle of customers or an avalanche of customers.
Primary category: Make sure that you pick the category that best sums up what you offer. For example, if you make wedding cakes and only wedding cakes, choose that as your primary category instead of 'cake maker'.
Secondary categories: My advice here is to spy on your competitors, and the best way to do this is by using 2 incredibly helpful and time-saving tools – Pleper, which is a tool that allows you to find, compare and monitor your listing & GMB Spy, which is a plugin that lets you see what primary and secondary categories your competitors are using that you are not.
Simply head over to the services section of your GMB and start filling in the relevant services you offer, including customised services that don't appear within Google's range of offerings.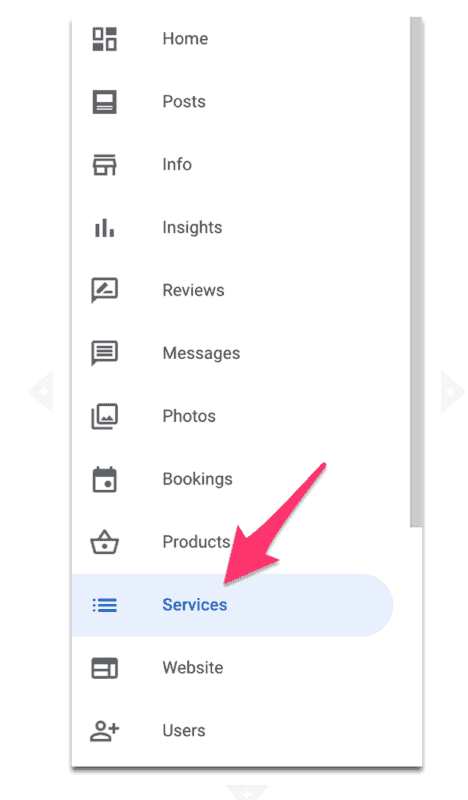 To give you an idea of how well you can optimise your categories, take a look at the image below for this SEO company in London.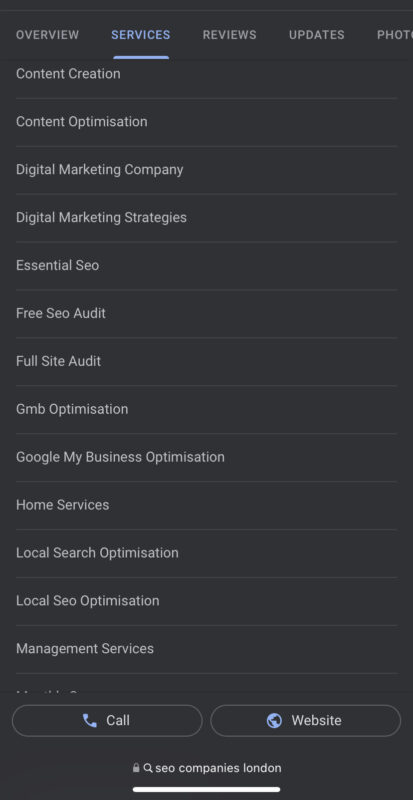 You can quickly and easily understand what they offer and whether or not they might be a good fit for you.
UTM Tagging – By adding UTM tagging to everything within your GMB you can measure what works and what doesn't from a monetary point of view. And the reason you need it is that Google has a habit of bucketing traffic into direct or organic where in actual fact, they came from different sources, i.e. maps or via your business listing in the SERPs.
And the best way to separate out where your traffic came from is by utilising UTM tags so that you can figure out where the best ROI is coming from.
You might not feel that you need to tag everything, but it's best to at least tag the important areas of your listings such as the call-to-action buttons.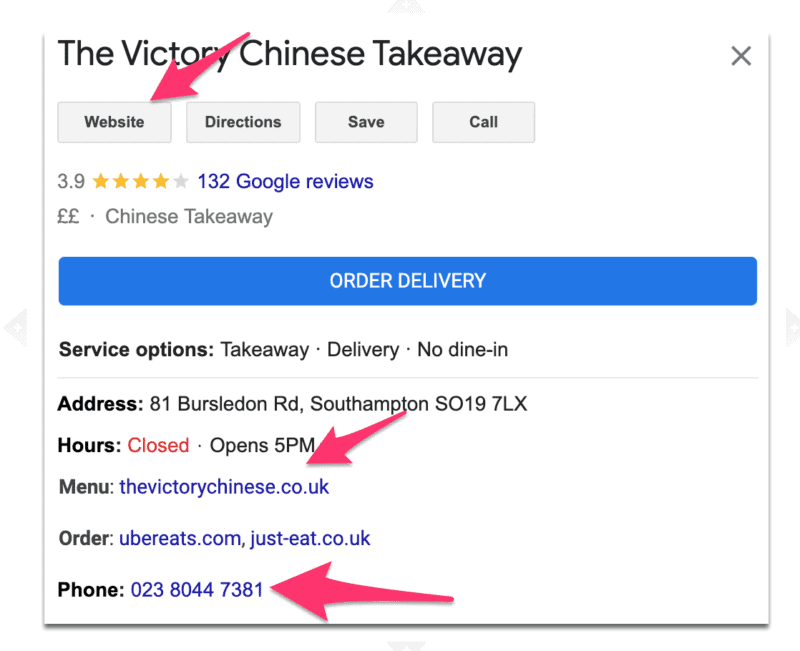 As I want to keep this article relatively short I won't go into detail about how to set up UTM's. Instead, watch this 5-minute video and you'll be up and running with them within minutes.
Multi-Location Business
Companies that operate in a handful of different cities not making the most of their online presence is something that I see all the time, and when I say not making the most of their online presence I mean they don't have dedicated, city-specific landing pages with GMB's set up for each city. Here's my advice:
Make sure you have a landing page for each city/area you cover and make them unique and descriptive. And although each landing page can be very similar, don't simply copy and paste the same content from one page to another. Vary them slightly.
Only set up a separate GMB if the new/next area you're targeting is a 2-hour or more drive from an existing GMB area
Set up separate GMBs for each city/area and make sure that the URL added to the GMB points to the city/area you're targeting if appropriate. If not link through to your service page and make the areas you cover clear.
Add local schema to each city-specific landing page to make the area covered clear to Google's algorithm.
Local SEO & optimising your website
Optimising a page
Your first stop when optimising for local search should be your website because ultimately this is where you get to sell yourself best. So to get the most from your site you need to fully optimise the page on which you want your local customers to land, and you do this by having all of the relevant information and signals in all of the right places.
To do this it's vitally important that you mention the area you're targeting in all the areas of your page that both your customers and Google expect to see them, such as:
Page title: A potential customer is much more likely to click on your link if you add the area you're covering and your service in the page title.
Headings: Expand on the service(s) you offer a little whilst including the area again. Use 2 or 3 headings if need be.
Body content: Talk about your service(s) in detail, but make it scannable. People simply need to know that you offer what they need.
Testimonials & images: Add real testimonials and images of you or your team in action. This will have a hugely positive effect with regards to people trusting you.
As a rule, I generally choose to optimise internal pages for local SEO because it makes life really easy should you ever decide to expand into another area.
Using this approach allows you to easily scale your local reach by adding other similar pages and simply changing the important signals such as the page title, headings, etc. However, if you do ever expand into other areas do make sure you don't simply copy and paste the body content, make it different, including any reviews and images you might have. It also makes things really straightforward with regards to setting up a separate Google My Business page.
However, if you're 100% sure you won't or can't expand into another area then optimise your home page.
Schema markup
By adding JSON-LD (it must be JSON-LD) Schema markup to your pages you're feeding the algorithms vital machine-readable information that will give a clear indication about what it is you offer, so at the very least you should apply local business Schema because without it you'll really struggle to get into Google Local Pack which sits at the top of the SERPs, where all the eyeballs are.
This might sound like a daunting technical SEO job, but in all honesty, all you need to do is to ask your developer to implement the Schema in to the head of your code.
Here's what Google has to say about Schema markup.
So take a look around at the plethora of Schema markup plugins that are available, pick one that's the best fit for your website platform and have it installed on your site (if you can't do it yourself).
Just one word of warning, when the Schema is installed on your website, make sure there are no errors with any of the markup. Google will punish you for having errors in the markup. You can test it here.
Citations & NAP for local SEO
Next up is making sure you have plenty of citations on the major business directories, including local directories. Just make sure that your NAP (name, address & phone number) are all correct across every site your company is listed.
If you want to take the leg work out of this then a quick and easy way to get it done is to use a citation-building tool, and for a small fee companies such as BrightLocal make this an absolute breeze. Plus, if you've already built up a number of citations over time BrightLocal can also audit your listings to ensure that the information is 100% correct across all sites and remove any duplicate listings.
Something else I always recommend any local business do is to look for other ways to build a healthy local presence that will encourage Google to boost your website in the SERPs, such as:
Newspapers: Reach out to local papers to see if you can get your service/business featured via a Q&A or by providing a write-up on something helpful that might be of interest to their readers.
Local business magazines: Every area has them and as above, offer them something like a Q&A.
Sponsor local charities: This often gets overlooked because business owners all too often don't see them as relevant, which kinda misses the point somewhat. So don't be afraid of paying a yearly fee, because firstly it's another trust signal to Google and secondly (and in my opinion most importantly) you're donating to a good cause.
Link building isn't always the easiest part of SEO, but if you look at links as a business opportunity you can quickly be perceived as an expert whilst improving your search engine performance and increasing sales.
Ultimately, you and your brand need to aim at becoming an authority in your industry and one of the best ways to achieve this is through consistently being found by your target audience.
Note: Links from other related businesses that are in the same geolocation as you are way more powerful than nearly all other links for local SEO, so chase them first and foremost.
Business site from Google
I don't often see many people arguing that launching the business.site is a worthwhile exercise, but in all honesty, I don't see any harm in using it for 1 simple reason. It will act as a citation builder directly to your company website.
Whenever you post an update using your business site it will link directly to your company site which will help (all be it a small amount) when it comes to building out your company entity.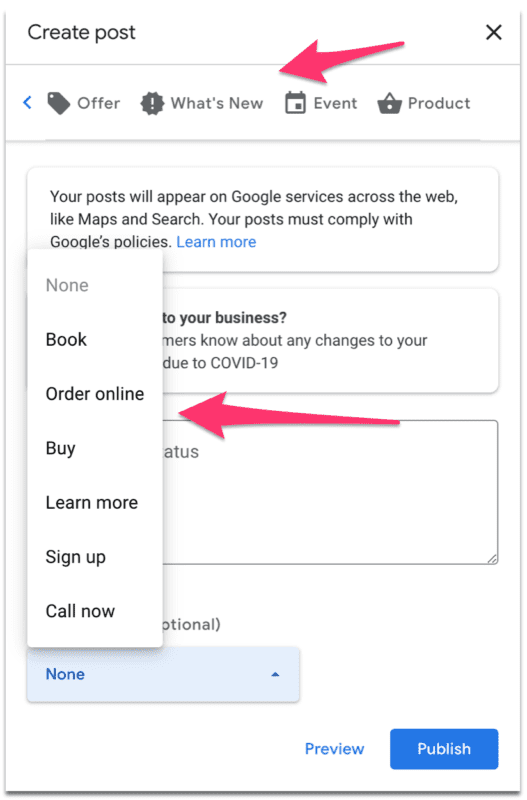 So I personally recommend that you set it up and use it every time you release a new blog post, or article or have an important update to share.
Dealing with spam
It would be remiss of me to leave out the ugly side of optimising and ranking for local search that causes more problems than we possibly understand, and that's dealing with spam.
And by spam, I mean listings in the local business listing packs that are only there to generate revenue by either selling calls to other companies or earning affiliate commissions.
You can often spot them by looking for these 2 giveaways:
The address they use is either a PO Box, a shared office or a virtual office. All of which aren't allowed by Google.
The name of the company is overly optimised and keyword stuffed.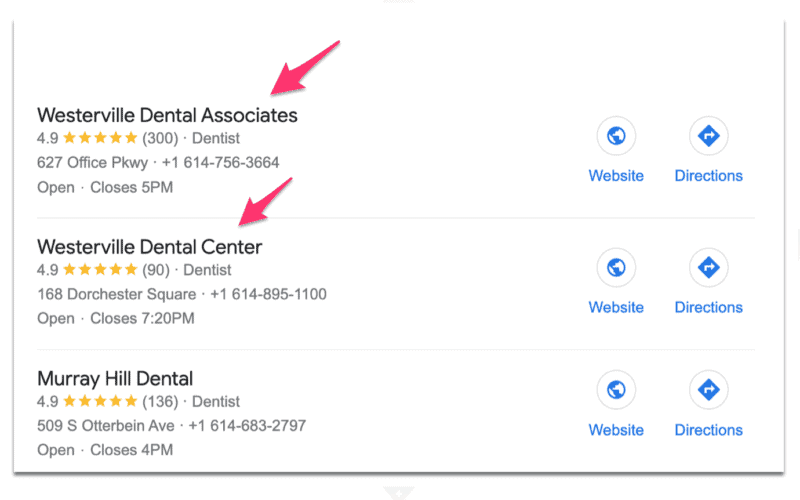 Now whilst it might not seem obvious at first glance (which is the problem), the above image shows listings have used dental in their business listing name just to gain the top spots in the business listings sections. And when someone enquires from the listing they are probably going to earn a commission.
If you want to tackle spam on the listings I suggest you check out Review Fraud before you dive in. This way you'll get a better understanding of what's involved and how it should be tackled.
Conclusion
Basically, when it comes to being found in your own backyard, local SEO with a properly optimised website, citations, backlinks, and most importantly a properly optimised GMB listing will drive more customers through your business than you could possibly have hoped for.
But remember, Google knows where people are at any single moment in time and are good at making searches relevant to the user, so maximise your web properties and make the most of local traffic. And of course, if you would rather somebody else handle all of this on your behalf to save you time then feel free to contact me, I'd be happy to help.