As eCommerce continues to grow and dominate the retail landscape, business owners are constantly looking for ways to improve their online presence and drive more traffic to their stores. One such method is leveraging Shopify tags to optimise your website's SEO (Search Engine Optimisation).
In this article, I will discuss the role of Shopify tags in SEO and provide a Shopify SEO basics overview, including best practices for creating effective tags, page titles, and meta descriptions that can lead to better search engine rankings and increased organic traffic.
But to quickly answer the question, do Shopify tags help with SEO? The answer is no, Shopify tags do not help with your SEO, but they do help with the usability of sites with a large inventory if used correctly.
What are Shopify tags?
Shopify is a popular eCommerce CMS (content management system) that allows businesses to build and manage their online stores because it comes with a user-friendly interface and a wide range of features, in fact, it's evolved so much over the last 5 years that Shopify has become the go-to solution for many entrepreneurs, as detailed in my Shopify review.
However, there are some aspects that many store owners don't utilise, including Shopify tags. Shopify tags are tags that are added to product and collection pages so that customers can filter products based on the tags users choose.
For example, if you sell a range of socks that come in 50 different colours, you can add the colour as a tag to each SKU so customers can filter by black, green, blue, yellow etc so that only those colours will be displayed.
Where are Shopify product tags?
To find your Shopify tag section, simply follow these steps:
From your dashboard, click on the products button.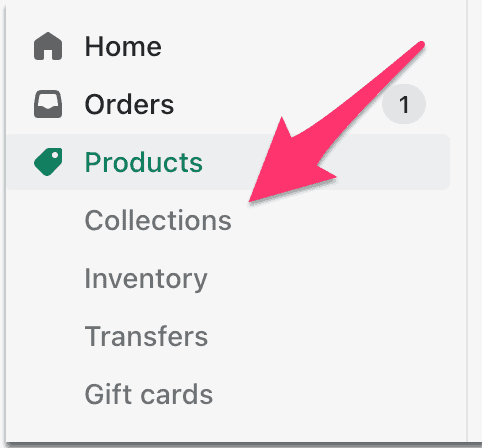 Then choose a product to add a tag to and create the tag you want to use.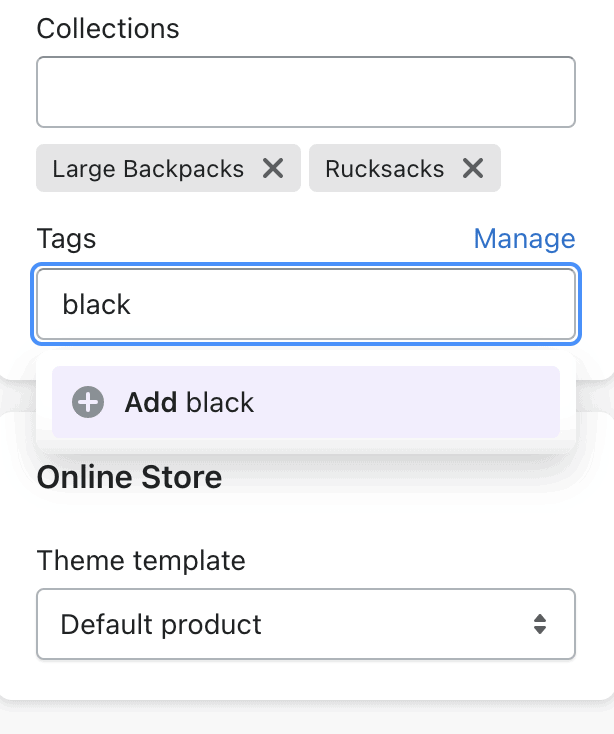 Then press save and you're done.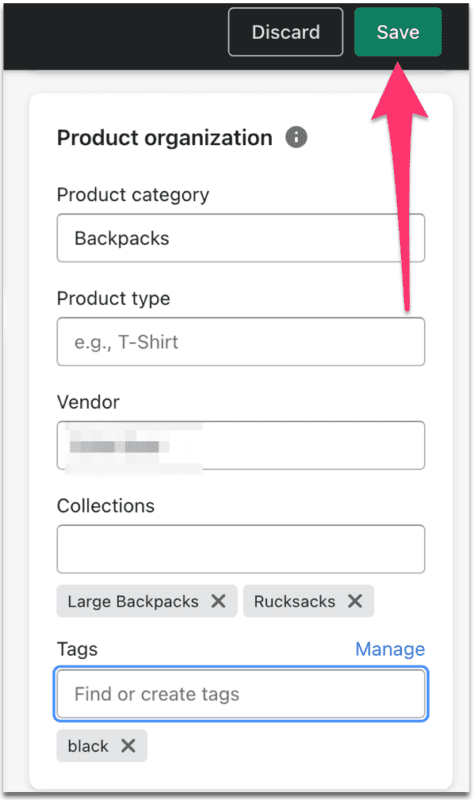 Shopify Tags and Best Practices
Shopify tags are a versatile tool that can be used to categorise and filter products, making it easier for customers to navigate your store. However, they can also play a crucial role in improving your website's SEO. Here are some Shopify tag best practices and information to consider:
Choose Relevant Tags: Select tags that are directly related to your products and their features. Use a mix of broad and specific tags to cater to a wide range of search queries so that you show browsers the most relevant products.
Be Consistent: Maintain consistency in how you use tags across your store, ensuring they are formatted and capitalised similarly.
Avoid Overstuffing: While using multiple tags can be beneficial, avoid overstuffing your product pages with too many tags, as this can dilute their effectiveness and lead to a poor user experience and a lower conversion rate.
Ultimately, you must think like a user and create tags that make sense and benefit the end user because this will enhance the shopping experience and increase sales.
And it doesn't take much effort to set up your tagging system either. Once you've added your tags to a handful of products you'll be able to go through and add them to all of your products in no time.
Basic Shopify SEO areas
To a newbie, SEO can be daunting. Even to experienced webmasters who have been in e-commerce for a long time, it can seem like a thankless and time-consuming task, but it doesn't have to be this way.
Yes, SEO is an involved and often complex discipline, but there are some basic SEO tasks that every store owner can carry out that will have an impact on your store's organic performance.
It's important to understand that to rank in the search engines there are some things that you must factor into your marketing plan and daily work schedule to help you gain more visibility in the SERPs.
So to improve your Shopify store's search engine rankings, follow this simple SEO checklist:
Heading tags
Heading tags (H tags) are a very important aspect of your web page in the eyes of a search engine, so each H tag must accurately describe your product and include your keyword.
The same goes for collection pages, Google loves to rank collection pages so make sure that you describe the products within the collection page.
By using relevant and targeted heading tags on your pages you're helping search engines understand the content and context of your site.
Page Title
Craft unique and engaging page titles that incorporate your target keywords and grab the attention of your customers. I also suggest that you keep your keyword as close to the beginning of the page title as possible.
Your page title is also the first thing potential customers will see when they come across your brand so make sure it's engaging and speaks their language.
And by speaking their language, I mean when someone has entered a search query into Google they'll expect to see their keyword appear in the page titles, so make sure that you add in your main keyword.
Meta Descriptions
Write compelling meta descriptions that provide a brief overview of your page content, including relevant keywords. Aim for a length of 150-160 characters to ensure optimal display in search engine results.
Internal linking
For an eCommerce store with lots of products, I recommend using "related products" to internally link between products/pages.
This is different to how I recommend internally linking between pages for informational sites built on WordPress (like this site), because they're completely different entities.
eComm sites have different needs, and linking between products is a good practice because it's not only the best way to link between pages, but it also provides a better user experience (UX) and potentially a higher AOV (average order value) because you can promote more expensive and better-suited products.
Intent driven content
Understanding the intent behind a search is arguably the number 1 factor behind ranking.
The intent behind a search is about understanding what the searcher wants when he/she enters a query into a search engine. For example, when you enter a search query are you presented with a list of collection pages? Or are the results informational (i.e. articles or blog posts)? Or are they videos?
You need to give Google what it's already showing searchers, so if you're thinking of creating a collection page full of products but the intent behind the search is nearly all video, then you too need to create a video because Google understands that, that's what users want to see.
Make sure to avoid duplicate content by creating unique product descriptions, blog posts, and other website content. Search engines are built on maths and algorithms, so make sure that they can clearly understand what your page is about.
Conversion rate checklist
Traffic to a website is nothing without conversions, and although CRO isn't necessarily part of SEO, I'm not entirely convinced that Google doesn't have a way of measuring customer satisfaction from how a user reacts after he or she has entered your site.
For example, does a user bounce back to the SERP and go to another site after they've visited your site? Or does that person simply end their journey because they've found what they wanted, i.e. because they've made a purchase?
This is a very grey area and is different from niche to niche, but Google does look at user satisfaction signals in a number of ways, so it makes sense to optimise your conversion rate, too.
To optimise your CRO you need two things:
Lot's of traffic
Lot's of data
You need plenty of traffic because without it you can't get accurate data on how browsers are interacting with your store, so if you haven't done so already, make sure that Google Analytics is installed and set up correctly so you can see how customers are interacting with your store, how long they're staying on-site, where they're clicking through to and where they're dropping out.
But for basic CRO I recommend the following:
Great product photos
Add to cart and buy button clearly visible – high up the page
Clear shipping and returns policy on every product page
Accurate product descriptions
Clear and obvious reviews supporting your claims
Multiple checkout options such as PayPal, Apple Pay etc
However, I'm an eCommerce SEO consultant and not a CRO expert, so it ultimately comes down to testing and watching how the giants of the eComm space like Amazon do it.
Google Search Console
I've added GSC here because it's free and provides you with data that's helpful. GSC gives you information on what search queries each page is showing up for, and if you've got your keyword targeting right, you'll start to see closely related search terms appear in Search Console that you should consider adding to your page.
So if you haven't done so already, verify and connect your Shopify store with Google Search Console to monitor your website's performance, identify potential issues, and implement necessary improvements.
Shopify SEO checklist
If you'd like a detailed breakdown of all the things you can do to optimise your Shopify store, check out my Shopify SEO checklist which gives you everything you need to rank your store highly in the SERPs
That's a wrap for Shopify tags
By implementing Shopify tags and following the Shopify SEO checklist, you can significantly improve your online store's user experience and visibility in search engine results.
This can ultimately lead to increased organic traffic, higher conversion rates, and a more successful eCommerce business so don't miss the opportunity to harness the power of Shopify tags on your website.